Representatives of the US administration is ready to effective measures related to imports of steel metal in their market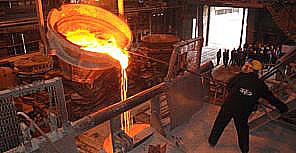 Representatives of the administration, state governments do not doubt the responses of other countries on trade restrictions of steel imports in the U.S. market. This measure is needed for the implementation of negotiations with countries that pereprodat steel. This opinion was expressed during a closed briefing by the Minister of trade States Wilbur Ross. This information became known thanks to the publisher «The Washington Post».
The Minister of trade stressed that the administration of U.S. President has «combat» readiness to trade barriers on world markets to import American product. He expects that introduced US measures restricting imports of steel into the U.S. market, will contribute to the implementation to more substantive talks with the other States. He expects that the negotiations will lead to real actions that have an impact on China. The measures imposed by States due to the fact that China has not reduced the overproduction of steel. For this reason, the state will be forced to go extreme measures.
Recall that the President of the United States announced the imposition or increase of import tax on steel and aluminium metal.
In addition, the White house administration was initiated 2 investigations, the purpose of which was to determine whether imported steel and aluminium threat to the national security of States. In the case of confirmation of these facts, trump will be able to use the right to limit imports of these metals under section 232 of the Law on trade expansion.
During the briefing, Ross was given a historical fact, when the US President was Reagan. Then the Reagan administration was able to convince Japan and other States to initiate a reduction of exports of their production. This is achieved only when the States threatened to throw their products from the market.
Among the most troubled countries, sold on the American market of Chinese steel according to Ross, included the following countries: Vietnam, South Korea, Russia and Ukraine.
The Minister of trade United States noted that although Canada is a big importer and exporter for steel production States, danger to the national security of the country, it does not provide. This is due to the fact that Canada did not increase the growth of imports and exports of steel in the U.S. market.
Ross said that the Commerce Department developed advice for the President. However, D. trump decided not to publish the data back to him. Because he wants to wait until after a summit of the big twenty. During the Congress major powers of the US President plans to discuss the import of steel metal with heads of state, which States considers problematic.