Lead sheet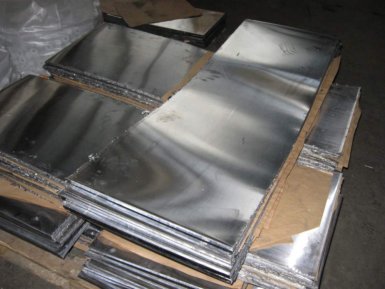 Production
Lead sheet is a solid flat rectangular profile made of lead or its alloys. The quality and properties of the finished product depends directly on the quality of the material, its chemical composition, methods of production. Rental is made according to GOST 9559−89, lead can have the following grades: 0, 1, 2, 3 according to GOST 3778−98. Chemical composition control is normalized to GOST 24231−80.
The thickness of the finished sheet up to 0,8 mm. Comes wound on a wooden core, covered with waxed paper. Standardized packaging GOST 9569−2006. Lead cloth is made by two methods: cold or hot rolling, the thickness, width, length — with normal accuracy. The surface should be no cracks, scratches, dents, traces of oil or grease. To improve the technological characteristics of the finished product, you can add elements such as arsenic, copper, cadmium, calcium, antimony, Nickel and tin.
The basic qualities
Lead is quite resistant to corrosion, easy to process, easy to melt. At a temperature of about 700 degrees Celsius, it turns into a gaseous state, the Disadvantage of lead is its high toxicity. It can affect internal organs, vessels, tissue, to cause cramping. All lead alloys have a high specific weight and chemical inertness, are easily subjected to processing such as drilling, cutting, stamping.
Scope
Thickness, mm
Cutting, mm
Unit
Price.
lead sheet C1
from 0.5 to 20
500x1000
pounds
negotiable
lead sheet C2
from 0.5 to 20
500x1000
pounds
negotiable
Lead sheets are used in various industries: chemical, machine tool, machinery, medical, defence. Of them are made special shields that resist radiation, vibration and sounds. Manufactured roofing materials and storage tanks for chemical and radioactive agents. Lead sheets considerably reduce the production of batteries, which is also important. Lead sheet C1 and C2 has a thickness from 0.5 to 20 mm. It is cutting 500x1000 mm.
Buy at best price
LLC «AVEK global» implements color rolling on the most favorable terms. In stock provided a range of semi-finished products made of lead or its alloys. From order volume and additional conditions of supply depends on the price. At wholesale enjoy significant discounts. Our managers are always ready to answer your questions, to provide expert assistance. A wide range of products will not leave you without a choice. Our firm ensures timely delivery. All products are certified. Quality is guaranteed by strict observance of standards of production.