Pipe aluminum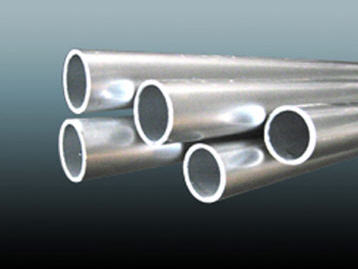 Dignity
The advantages of aluminum pipes applies corrosion resistance, high conductivity and ductility. Great advantage is easy mechanical processing and accessibility of all types of welding. It is absolutely hygienic metal. The pipe from it resistant to the action of soil and atmospheric moisture and operated in a wide temperature range.
Use
Manufacturer of heating systems, radiators, water, gas, ducts, drainage systems. This metal is indispensable in the manufacture of tourist and military equipment, design of vessels, vehicles and aircraft construction. With decorative design of interiors and the creation of temporary construction structures is a very popular aluminum pipe. They are used for fuel and in the food industry, and in addition, cryogenic and household equipment. Profiled aluminium tube (box.)
Wall thickness in millimeters
Width (height) in millimeters
Price per meter p.
AD31 aluminum tube, profile, rectangular
1,5
10x20
negotiable
1,5−2
15x30 (20)
negotiable
1,5−3
20x40 (25)
negotiable
2−3
20x50 (30)
negotiable
2−3
25x60 (40)
negotiable
2−4
20x80 (40, 50, 60)
negotiable
4
40x100
negotiable
2,5
40x150
negotiable
AD31 aluminum pipe, profile, square
1,2
12x12
negotiable
1,5−3
40x40−15x15
negotiable
2−4
60x60−50x50
negotiable
5
70x70
negotiable
2−4
100x100
negotiable
Aluminum pipe AD31
| Wall thickness in millimeters | The diameter in millimeters | Price in UAH per p. meter |
| --- | --- | --- |
| 1 | 14−8 | negotiable |
| 1−2 | 28−16 | negotiable |
| 2,5 | 45−30 | negotiable |
| 10 | 38 | negotiable |
| 2−3 | 100−50 | negotiable |
| 10 | 95 | negotiable |
| 4 | 125 | negotiable |
Buy at best price
LLC «Aparmo» — the company that sells under the order of the color rolled on optimally favorable conditions. In stock — the largest selection of pipes of various diameters and cross-sectional shape. «AVEK global» is engaged in supply of thick-walled and thin-walled tubes. The matte surface of the pipe free from dirt and defects, their ends are cut very smoothly, avoiding the burrs. Transportation of pipes is carried out in the bays, as well as in segments of random long. GOST 9.510−93 reglamentary storage, packaging, transportation and temporary corrosion protection. Guarantee of quality is the strict observance of technological standards of production. Experienced managers advise on all issues. The timely delivery is guaranteed. In the case of wholesale orders the flexible system of discounts.