2.0975 - CuAI10Fe5Ni5 - c95500 sheet, strip, pipe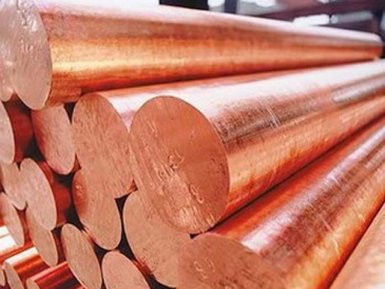 Supplier — AvekGlob Company — offers at a reasonable price from the manufacturer a sheet, tape, pipe, which are made of nickel-aluminum bronze grade CuAl10Fe5Ni5 (alloy C95500, 2.0975). The supplier guarantees the timely delivery of products to any address specified by the consumer.
Technical specifications
Nickel-aluminum bronze grade CuAl10Fe5Ni5 (other names — alloy C95500, 2.0975) has excellent wear and extreme pressure properties when working with stainless steels, as well as with most other alloys based on nickel and iron. The alloy has excellent resistance to corrosion / erosion / shock loads in running sea water (at a speed of its movement up to 4.5 m / s), and can be used for water treatment systems for boilers. The alloy can withstand heavy loads, but, as a rule, it is limited by small sliding speeds of the parts in contact with each other with good lubrication.
Urgency of application
Typical use of bronze CuAl10Fe5Ni5 (alloy C95500, 2.0975) — body parts of high-strength sliding bearings that operate in the temperature range from -200 ° C to 200 ° C, industrial water treatment plants, bushings and chassis components of aircrafts, low-quality bearings with good lubrication, operating, including, and in sea water.
Chemical composition
In accordance with the technical requirements of ASTM B505, the composition of the alloy includes:
Brand alloy
Cu,%
Fe,%
Al,%
Ni,%
Mn,%
C95500

Not less than

78

3−5


10.0-
11.5
3−5
3.5
Copper, used for melting alloy, must have a degree of chemical purity of not less than 99%.
Physical and mechanical properties
Density, kg / m 3 — 7600;
Melting point, 0 С — 1050… 1080;
Modulus of elasticity, GPa — 112;
Coefficient of thermal conductivity at room temperature, W / mdg — 42;
The coefficient of thermal expansion in the temperature range 20… 250 0 С, μm / deg — 17;
The limit of temporary resistance, MPa — 660;
Yield strength, MPa — 280;
Relative elongation at tension,% — 14;
Hardness according to Brinell, HB, not more than — 151.
Assortment and application features
Nickel-aluminum bronze grade CuAl10Fe5Ni5 (alloy C95500, 2.0975) is available in a wide range of rolling profiles and castings with different cross-sectional dimensions. The ability of the material to solder is good, weldability is unsatisfactory (with the exception of arc welding processes with non-consumable electrode or electrodes with protective coatings). Mechanical machinability of the alloy is average. The alloy can not harden thermally, the annealed material exhibits weak magnetic properties.
Supplier — AvekGlob Company — offers to buy a sheet, tape or pipe made of nickel-aluminum bronze CuAl10Fe5Ni5 (alloy C95500, 2.0975). Products can be bought at a price formed on the basis of European and world standards of production. Implementation is possible in bulk and retail, for regular customers, a flexible system of discounts operates.