Wire, round, rod 14kh17n2 - эи268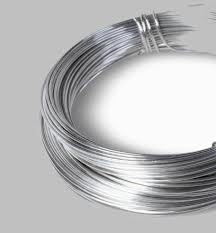 Production
Brand 14KH17N2 is a complex alloyed chromium-Nickel stainless steel alloy of martensitic-ferritic class, whose structure contains Nickel 1,5−2,5%, chrome — 16−18%. As additives to the mixture is added titanium — 0.2%, copper — 0.3%, carbon 0,11−0,17% manganese and silicon, 0.8%, phosphorus and sulfur — hundredths of a percent. The alloy is melted in open electric arc furnaces. Wire produced by TSMTU 664−41. The circle and bars — according to GOST 1525−53, as a rule, length 2−6 m
Chemical composition (ГОСТ5632−72
| Mark | Fe | C | Cu | Ni | Cr | Mn | P | Ti | Si | S |
| --- | --- | --- | --- | --- | --- | --- | --- | --- | --- | --- |
| 14KH17N2 | Basis | 0,11−0,17 | ≤0.3 mm | 1,5−2,5 | 16−18 | ≤0,8 | ≤0,003 | 0,2 | ≤0,8 | ≤0,025 |
Classification
Accuracy of manufacturing of the range is marked by the letters A, B, C, which means high precision, improved accuracy and precision of conventional production. According to the type of heat treatment range is thermally treated — T, without heat treatment, and N — full hard (repeatedly subjected to rolling). Length of wire, rod, circle is the measuring length, random length, dimensional.
Heat treatment
Recommended temperature of quenching of the alloy in air or in water not higher than 1200 °C. the Temperature is initially raskopki 1150 — 1180 °C, and at the end of — 850 °C. the Rod is quenched at a temperature of 1050−1150°C in air. This alloy is easily weldable any type. For manual electric arc welding used electrodes OzL-35, OzL-25.
Dignity
Wire, round, rod of this alloy possess exceptional resistance to corrosion and strength, high plasticity and adaptability. They are highly stable in contact with neutral salts, and caustic alkalis, in marine and fresh water, therefore apply to parts of plants for the production of salt.
Use
Manufacture responsible mechanisms and parts, whose work is carried out at high temperature and moderate stress. Wire, round and rod 14KH17N2 used in the production of commercials slot furnaces, which serve for fast firing ceramic tiles, flat household ceramics, etc. products. Steel brand 14KH17N2 also found in conveyor oven grids, can withstand a temperature 1250−1300°C for a long time, has a high resistance at high temperatures to static and dynamic loads. It is demanded in the manufacture of covers electrical thermometers because it does not pollute the electrodes thermocouples and provides reliable protection when working in hazardous conditions and corrosive environments. Also, this steel is used in the form of blanks for the production area, beams, channels and special purpose profile used in industrial construction of any complexity. Round 14KH17N2 actively used in mechanical engineering. It is used as a workpiece for the production of axles, bushings, pushers, shafts, etc. moving parts of machinery. The wire is used for different fasteners and grids, the manufacture of the springs. Wire is also used in the manufacture of parts of electrical appliances, electrodes for welding operations for booking and reinforcement.
Buy at best price
To see more details with the products, specify its basic properties, place your order, you can in our company LLC «AVEK global», which specializiruetsya the sale of heat-resistant and stainless steel alloys. We offer products from warehouses in Ukraine and in Russia with delivery to any region of the CIS. All products are certified and available. The order execution time is the shortest. If you have any questions, you will receive detailed advice from experienced managers. For wholesale orders the company provides flexible system of discounts.