Duplex tape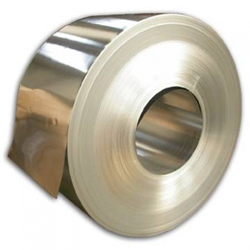 Production
The manufacture of duralumin tapes is normalized GOST 13726−97 from alloy VD1 with chemical composition in accordance with GOST 1131−76. The sampling for the control of the chemical composition is normalized to GOST 24231−80. Marking. The semi-hardened tape is designated as H2, soft, or annealed — M, with normal cladding — A. Precision, as well as the strength of manufacturing — normal, the quality of surface finish is standard, and the thickness deviation can be both symmetrical and asymmetric.
The percentage composition of alloy VD 1
| Fe | Al | Ni | Mn | Cu | Zn | Mg | Si | Ti | Impurities |
| --- | --- | --- | --- | --- | --- | --- | --- | --- | --- |
| ≤1 | 90−97.3 | ≤0.2 | 0.3−0.8 | 2−5 | ≤0,7 | 0.4−1.6 | ≤1 | ≤0.2 | 0.2 |
Treatment
Heat treatment can change the structure of the material, its mechanical or physical properties. When annealing, the tape VD1AM becomes more forged, plastic, easier cutting. To restore hardness, rolling is used with a reduction of 2 to 5 percent, that is, training. A ribbon of this brand such as VD1AN2 is made with normal plating of a semi-hammered alloy. It is distinguished by its high strength, corrosion resistance. Anodic oxidation can be used for the coating.
Using
Sealing, joining joints of various designs in engineering, construction, housing and communal services.
Thickness, mm
Width, mm
Price, per kg
Duplex tape VD1AN2, VD1AM
0.5 to 1
1000 to 1200
Negotiable
Buy at a bargain price
LLC «Avek Global» sells non-ferrous metal products on the most favorable terms. We offer a wide choice of duralumin tape of various parameters. Quality is guaranteed by strict observance of production technology. Deliveries are made both in bulk and in retail in the shortest possible time. With bulk orders, a flexible discount system operates. By calling us, you will receive all the necessary information, and our managers can advise you on all current issues. A wide range of products, as well as comprehensive information will help make the right choice.