KHN60VT - ЭИ868 pipe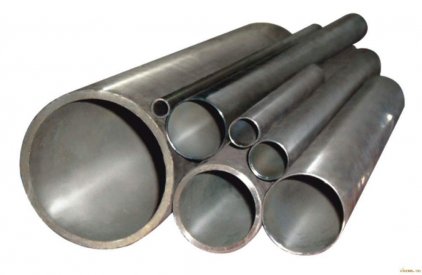 General characteristics
The alloy has a density of 8.16 g/cm3 and coefficient of linear expansion equal to 13.7 (1/deg K). The mechanical properties of the tubes change depending on the temperature. For example, at a temperature in the range 20 — 1000 º C Flexural strength will be 520 — 60 N/ sq. mm Coefficient of thermal conductivity — in the range of 15.9 to 23.4 W/(m•deg K). Pipe KHN60VT, thanks to the balanced composition has good weldability, which facilitates installation of sophisticated equipment and does not require a final heat treatment after welding.
Dignity
Pipe KHN60VT of heat-resistant special steels belong to the category of stainless steel and is intended for the production of equipment operating at high temperature (not exceeding 850ºС) in aggressive chemical environments. The high content of Nickel and chromium ensures high corrosion resistance hardware. Such properties of the alloy as malleability and ductility allow manufactures tube minimum diameter. Due to its cold resistance and the ability to hardening, pipe KHN60VT used in the manufacture of exhaust system type and hire great thickness.
Disadvantages
However, despite its corrosion resistance, these pipes krupchitsy in the atmosphere of sulfur compounds and sulfur. Due to its composition of expensive chromium, Nickel and titanium wire has a high price, but are more reliable. the high cost kompensiruet durability and strength.
Chemical composition
Ni
Cr
Fe
W
Ti
Mn
Si
Al
Ca
With
S
P
up to 63.2
26.5
up to 4
13−16
0,3−0,7
to 0.5
to 0.8
to 0.5
to 0.05
to 0.1
0,013
0,013
Use
Tubes of this alloy, due to its strength, high corrosion resistance and durability are widely used in the demanding conditions of modern industrial production, for example, for the transport of chemically active substances. Pipe KHN60VT is not always the end product. It is often used as a workpiece for punching, cutting, pressing in the manufacture of separators, bearings and other parts of rolling. Pipe brand KHN60VT often used in metallurgy and mechanical engineering, as well as in the manufacture of fragments of installations in the oil and gas industry, which operate at high temperatures (above 700°C). The process of production of these tubes requires strict control of compliance with international, domestic quality requirements. Compliance with strict sanitary standards allows the use of a tube in food industry, medical industry and pharmaceutics.
Buy at best price
The company «AVEK global» sells pipes of heat-resistant Nickel-chromium alloys at an affordable price. It is formed taking into account technological features of production without the inclusion of additional costs. We have the most variety of products for large-scale production. We offer good conditions for wholesale and retail buyers. On our website You will find all the necessary information. Our consultants are always ready to answer your questions. Implementation of orders in the shortest possible time. Wholesale buyers are offered preferential discounts.