Tee stainless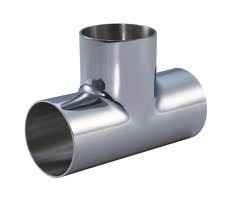 General characteristics
Stainless steel tees are used for changing the direction of separation of the pipeline flow of liquids and gas. May be transient and straight. The latter have all pipes the same diameter as the linking — pipes of smaller diameter, perpendicular to the main flow.
Production
Domestic stainless steel tees are made of seamless pressed. They are welded to the pipeline. Thick walls designed for operation at pressures up to 100 atmospheres and a temperature of from -70°C to +450°C (depending on steel grades). For the import of low-pressure lines use stainless steel imported tees, which are made from welded pipes. At small diameters the wall thickness is 2 mm and larger up to 4 mm. it uses the following grades of steel: 10Х17Н132М2Т, 08KH18N10T, AISI 304, 12X18H10T, 316 AISI. Threaded connections are designed for sanitary water supply pipe lines, used steel 316 AISI. The ends of the tees are threaded (like BP-BP-BP). The diameters of stainless steel threaded tees are DN 6 (1/8″) — DN100 (4″).
The chemical composition of the 08KH18N10T in percent (GOST 5832−72)
Si
With
Mn
Ni
Cr
P
S
Cu
Ti
No more
No more
0,8
0,8
0,2
9,0−11,0
17,0−19,0
0,035
0,020
0,30
0,5
Buy at best price
LLC «AVEK global» offers the most favorable conditions of steel products. The offered range of stainless steel tees can satisfy any customer. The volume of purchase and additional conditions of supply depends on the price. Carrying out wholesale orders, you can count on company-provided flexible system of discounts. Our managers are always ready to provide advice. A large range will not leave you without a choice. The timing of orders is minimal. All products are certified. Quality is guaranteed by strict observance of technological norms of production.