Dysprosium brand, chemical structure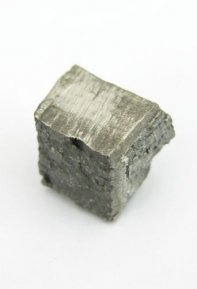 General characteristics
Dysprosium — light metal with a silvery sheen, refers to rare earth elements the lanthanides group. Designated in the periodic table as Dy. Atomic number 66, its content in the lithosphere is 5x10-4 %. It is not found in the native form. Together with other rare-earth metals contained in various minerals: Apatite, basanite, gadolinite, monazite. Opened in 1886, when spectroscopic analysis «holmeavej of the earth.» 20 years later it was able to isolate in pure form. Urban. Today it is produced industrially by restoring DyCl3 and DyF3, calcium, sodium or lithium.
Physico-chemical properties
Below t° 1384 °C dysprosium has a hexagonal α-lattice, and above this temperature becomes cubic β-lattice. To t° 100 °C in the air it oxidizes very slowly, but at a higher heating starts to interact with hydrogen, oxygen, Halogens, nitrogen. It dissolves easily in mineral acids, but almost does not react with alkalis.
Physical quality Dy
Atomic (molar) mass, g/mol
162,5
The degree of oxidation
3
Density [g/cm3]
Of 8.55
The melting temperature t°C
1412°C
The heat of fusion kJ/mol
n/a
The thermal conductivity K [W/(m·K)]
10,7
Heat of evaporation kJ/mol
291
Application
Belongs to the group of non-ferrous metals are produced from these types of hire, as a circle, wire, sheet. They are alloyed with zinc alloys. Add it to the zirconium provides the extension of the capture cross section of thermal neutrons, thus greatly improves the manufacturability of the alloy. Ions of dysprosium in medical lasers contribute to the excitation of infrared radiation with a wavelength of 2.36 microns. Industrial chemistry uses dysprosium as an effective catalyst. Nuclear power uses garret, a boride, a borate, an oxide of dysprosium for the production of special paints, enamels, absorbing ionizing radiation. Dysprosium actively captures the neutrons, it is the basis for regulating nuclear fission rods. Its alloy with iron is a powerful magnetostrictive material. Method of determination of impurities of oxides of dysprosium is normalized GOST 23862.13−79.
Buy at best price
LLC «AVEK global» is a company which sells non-ferrous, rare metals on the most favorable terms. In stock provided a range of products from dysprosium and its alloys. For larger orders, additional conditions of supply depends on the price. At wholesale enjoy significant discounts. Our managers are always ready to provide expert assistance. A large range will not leave you without a choice. All products are certified, shipped promptly.