Tungsten foil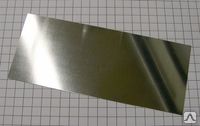 Dignity
Tungsten foil is the final product of hire, is a thin sheet with a thickness of 0,03 — 0,09 mm. It has exceptional high temperature strength and heat resistance, a low coefficient of temperature. expansion, high resistance to temperature creep, good thermal conductivity, high coefficient of electron emission. Foil of tungsten has a high modulus of compression-tensile, resistance to corrosion, acids, alkalis, even to concentrated solutions of sulfuric, nitric and hydrochloric acids, Aqua Regia. Chemical resistance, durability, biological safety make tungsten foil is indispensable in the application in various industries.
Physical quality
The temperature at which the obtained data the features of t°C
20°C
The linear thermal expansion coefficient α [1/Deg]
43x10-6
The density of the alloy [g/cm3]
19,3
Tensile strength tensile kg/mm2
35
Specific heat at 20 °C [kJ/(kg·deg)]
0,134
The thermal conductivity K [W/(m·K)]
300,173
Electrical resistivity R, Mhmm2/m
0,054
Disadvantages
These include the difficulty of obtaining tungsten in its pure form, a large proportion (like gold) and brittle at low temperature. Because of its exceptional properties it is amenable to treatment (rolling, drawing and forging) only with considerable heat.
Manufacturer
Foil is made from certified high quality tungsten purity is 99.95% «cold-hot» method of high-precision equipment. Since incandescent tungsten interacts with atmospheric gas, we use the most advanced technology of the chemical. protection.
To get the wire and rod, initially produced using powder metallurgy Fort. It heats up and Raskulinecz on a rotary forging machine to a thin sheet, from which after get hot-drawn foil. After turning the sheet in foil, rolling may continue at normal temperatures. The foil is very smooth surface, and surface oxides are removed with hot sodium hydroxide solution or by calcination at 1000 °C in hydrogen atmosphere. Workmanship is monitored at all stages of production.
Application
The rapid development of modern robotics, instrumentation, nuclear energy, engineering, petrochemical industry, medicine stimulate demand for foil of refractory metals. Tungsten foil is most commonly used:
— the military-industrial complex;
nuclear energy;
— industrial chemical synthesis;
— in the manufacture of heat exchangers;
— radio technician, electronics;
Buy at best price
A large range of high quality tungsten foil of various parameters on the stock LLC «AVEK global» can satisfy any consumer. The quality of the finished product is ensured absolute compliance with all technological norms of production. The timing of orders is minimal. If necessary, you will receive detailed advice from experienced managers. For wholesale orders the company provides flexible discounts.