Wire KHN78T - ЭИ435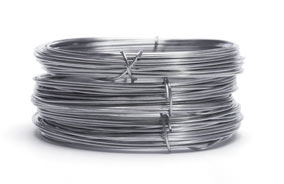 General characteristics
Steel brand KHN78T is intended to produce parts which are operated at high temperature (1000 — 1100ºС) in aggressive environments. Due to the high content of Nickel and chromium, wire of this alloy has high corrosion resistance. A disadvantage of this alloy is instability in the atmosphere sulfur compounds. Due to its high content of wire of Nickel chromium and titanium; the wire has a high cost. But the high price kompensiruet reliability, durability and strength of the material.
Chem.the composition of the steel is regulated by GOST 5632−72. This steel is melted in open electric furnaces that give minimum admixture of random substances.
Chemical composition of wire KHN78T (in percent).
Ni
Fe
Cr
Ti
Mn
Si
P
With
S
70,003-to 80.85
to 6
19−22
0,15−0,35
to 0.7
to 0.8
0,015
to 0.12
0,012
Physical properties KHN78T alloy at t° =100°C.
— coefficient of thermal expansion is 12.2 [1/Deg];
— modulus of elasticity equal of 2.19 MPa;
— coefficient of thermal conductivity or the heat capacity of the alloy is not more than 14.6 W/(m·deg);
— the density of the alloy is of 8.38 g/cm3, and when the temperature varies slightly;
the resistivity is equal to 1.1 Omhm2/m.
The surface of the wire is not susceptible to oxidation during long-term operation at high temperature in an oxidizing atmosphere. This wire is plastic, which makes it popular in the manufacture of domestic and industrial appliances.
Use
Wire brand KHN78T is in great demand in the industrial heaters electric furnaces. For example, in kilns drying and calcination, electric furnaces, heating effect, as well as in household appliances. Wire brand KHN78T used in the rheostat and resistor elements, as well as in the production of vacuum devices, soldering irons, tiles of high reliability. It can also be used as a cutting and a heating element in thermal packaging knives for sealing packages, industrial and domestic with hot-air heating and water heating systems. In the production of coils length of wire is determined based on the required power. Its high ductility allows the processing at low temperatures, minimizing the energy consumption. Due to the heat resistance wire KHN78T, it is used in corrosive environments as a chemically resistant alloy. The most widespread use of wire KHN78T finds in petrochemical engineering.
Buy at best price
A large range of brand products KHN78T, including wire in stock LLC «AVEK global» can satisfy any consumer. The quality of the finished product is ensured absolute compliance with all technological norms of production. The order execution time is the shortest. If you have any questions, you will receive detailed advice from experienced managers. Wholesale buyers, the company provides preferential discount.