Stainless steel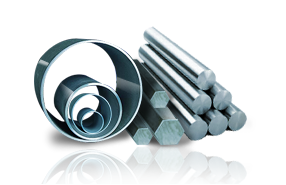 In stock company «AVEK global» is always available a wide range of titanium mill products. The company offers the following range of titanium products: square, hexagon; titanium rod, welding wire, pipe etc.
General characteristics
Titan — a light silver colored metal that has high corrosion resistance and strength. In specific strength (per unit weight) is considerably greater than the other alloys. It retains its useful properties at extremely low and high temperatures (from 250 °C to 550°C). He's almost as light as aluminium, and the corrosion resistance is higher than other metals. The ductility and malleability of titanium is comparable to copper and low creep with stainless steel. The key alloying elements of titanium, aluminum, tin, iron, zirconium, vanadium, chromium. Titanium alloys in the metallurgy are indicated in the structure of crystal lattices: in the form of a hexagon in the shape of a cube and mixed. Reception processing distinguish between wrought and cast alloys.
Production
The main method of obtaining titanium is considered a method of regeneration of titanium chloride (TiCl4) with magnesium or sodium at high temperatures. The main task of production technologies aimed at reducing the content of nitrogen, hydrogen and air in the final product.
Dignity
Titanium has a low density, high resistance to corrosion, vibration, and prolonged static loads. It retains strength over a wide temperature range, making it a necessary Foundation materials in rocket and aircraft. A gain in mass, which gives the Titan without loss of strength, known to all developers and engineers, that is why it is so widespread in the industrial sector. Titanium alloys are used in aviation and rocket technology at t° 260…500°C, when the lighter aluminum and magnesium alloys are already not healthy, and alloys of steel and Nickel significantly weight design. Thanks to the resistance of this alloy to corrosion, it finds application in chemical. industry.
Disadvantages
High cost due to the complexity and labor intensity of production. Titanium welding can cause some difficulties.
Application
Extraordinary characteristics of titanium mill brought it to the forefront in modern industry. It became the basis of alloys for aircraft and rocket. The thermal conductivity and lightness of titanium are used in the manufacture of heat exchange systems. Due to the safety and nontoxicity, titanium has become the basis of materials for food industry and restoration surgery. He became literally indispensable for the creation of surgical instruments, dental and orthopedics — for the production of prostheses.
Titanium alloys are used in cryogenics, because they retain strength and flexibility in extreme cold. Of them produce critical parts for machine-building and shipbuilding. Scope of application it is almost unlimited. Titanium body armor, and use in modern design. Despite the high price, its use is economically justified, strength, lightness and durability of products.
Buy at best price
The company «AVEK global» supplies metal products at the best prices. We offer favorable conditions of purchase of products of titanium and its alloys for wholesale and retail buyers. On our website reflects the most current information. If necessary, You can always consult experienced managers who will help with this. All products are certified. The certificate is marked manufacturer, brand alloy mechanical properties of the parts, the chemical composition and the results of additional tests, delivery times are minimal. For wholesale orders there is a reduced discount.