Electrical copper bus bar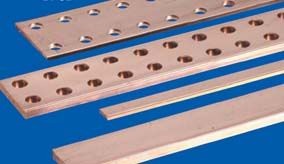 Dignity
The electrical bus is widely used in various industries when installing any electrical devices. Greater efficiency of the bus due to the fact that it consists of copper, without which one cannot do when collecting modern electric designs. Itself copper metal is very malleable and soft, can work in a wide temperature range, and most importantly having a wonderful current. For the production of superconducting materials the current, oxygen-free copper type. The melting point of copper is 1083 °C. the Specific weight is equal to of 8.93 g/cm3. The resistance of the metal is 0,0167 Ohms (at 20 degrees Celsius). The best conductor of electricity is silver, copper also can be put on the second place after him. However, copper is much cheaper than silver, which is crucial in modern manufacturing.
Application
Electrotechnical industry, atomic energy, engineering, installation of power rails for trolley lines. The production of space equipment and vacuum equipment. Such tyres are used for the production of linear accelerators, various electronic devices, superconductors. Of them are manufactured linear accelerators, switchgear, superconductors and electronic devices.
Supply
Tires themselves are made of copper are delivered to the customers by otrzyma different lengths, and the price depends on the options and qualities of the finished material. The manufacture of tires normalizes GOST 434−78. The finished product can be annealed, unannealed or hard. Respectively products can be found labeled — T-hard, M-soft and so on. Solid tires marked with TV are made of oxygen-free copper, which increases the quality of the product.
Buy at best price
In warehouses of LLC «AVEK global» is always a wide range of rolled copper at the best price. Selection will satisfy any customer. Order and buy copper busbar of any parameters is possible through our office or through the Internet website of the company. Quality is guaranteed by strict observance of technological norms of production. Packaging, storage, transportation and temporary corrosion protection is made in accordance with GOST 18690−82. The timing of orders is minimal. The price depends on order volume and additional conditions of supply. For wholesale orders flexible system of discounts.