Wire aluminum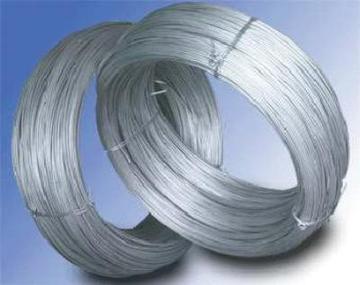 No aluminum wire applications today do more than one industry.
Dignity
1. High manufacturability.
2. Plasticity and low melting point 600 °C.
3. Low cost, corrosion resistance, high thermal conductivity, electrical conductivity, magnetic properties.
4. The minimum weight.
5. The wire is valued for its resistance to influence of atmospheric and soil moisture, as well as biological inertness. It meets all sanitary and hygiene requirements that apply to household hardware, and Cutlery.
6. Use for welding aluminum electrode allows to obtain not only high strength, but the plastic seam, which is resistant to weathering.
Production
Welding wire produced according to GOST 7871−75, using in the production of alloys of the following brands AMg6 АК5, Amg3, AMg5 and AMTS with the chemical composition, normalized to GOST 4784−97. Manufacturer of cold heading wire is compliance with GOST 14838−78, used alloy V65, and mark AD1 (GOST 4784−97).
The selection and preparation of samples for chemical composition control is normalized to GOST 24231−80. Alloys AMG6, AMG3, AMG5, AMC belong to deformable, they are easily welded, processed and resistant to corrosion of various types. Technical wire brand AD1 is different corrosion resistance, electric conductivity and high ductility.
Wire brand АК5 is a small diameter elongated profile of the cast alloy. Due to the high content of silicon and copper, it has a high hardness. To high strength duralumin, can be attributed to the alloy grade V65. To improve its chemical resistance, used anodic oxidation and cladding.
Classification of wire
1. Purpose and production technology:
— for cold heading — GOST 7871−75. Ø 0.8−12.5 mm. there are two types of wire — extruded (P) and pull ().
— for welding — GOST 14838−78.
— electrical — TU 16. K71−088−90.
— round wires for aerial power lines — TU 16−705.472−87.
2. For precision manufacturing:
— High — P.
— The usual.
3. Processing material:
— without heat treatment.
— annealed — M.
— nagarebana — N.
— Polushkina — FRI.
— Naturally aged and hardened — T.
— Artificially aged and hardened — T1.
In the annealing process, the ductility and machinability by cutting is much improved and conducive to cold deformation hardening alloys.
4. Method of delivery:
— in bundles.
— in coils.
— in coils — BT.
| Wire | Standards | Marking | Dimensions |
| --- | --- | --- | --- |
| wire aluminum | GOST 148З8−78 GOST 7871−75 TU-16 7О5.472−87 | СвАМг6М, AVL, HELL, Swamm, AD1, АД1М, АД1Н, Svamc, ADN, ADM, АК5Н, СвАМг6Н, Amgs, АМг3Н, Amg5p, Svamg6, АМг5ПН, AMg6, АМг6М, AMC, Svamg5, Amcm, В48, Swamps, B65, D16P, Svamg3, D18, Д18П, D19P, СвАК5Н, D1P, Sva85t, Svak5, Swamn | 1,6−5, |
Use
Food industry, construction, engineering. It is used in the production of cables, wires, furniture fittings, decorative elements. Can not do without it and in the sausage industry, the beer industry or transport engineering. It also is used in welding as a consumable electrode or strapping.
Welding
Wire indispensable in the welding process, especially those structures that have direct contact with soil or atmospheric moisture, which provides protection against thermal cracks, seam strength, resistance to corrosion and ductility. Alloying elements increase the strength of the weld, however this reduces corrosion resistance and ductility. For more ductile and resistant to corrosion of the seam, use less-doped electrodes. When welding alloys of aluminum use wire, which by its chemical composition as close as possible to the part itself. An exception is the alloy Ai+Mg. The fact that in the process of welding magnesium evaporates. It is therefore necessary to use a wire, in which the percentage of magnesium is much higher than in the composition of the workpiece.
name
Grade
Note
welding aluminum wire is imported:

OK Autrod 18. O1 (analogue Sva97, СвА85, Svamc)

OK Autrod 18. O4 (analog СвАК6, Svak5)

OK Autrod 18.11 (analogue Св12О1)

OK Autrod 18.15 (similar to Samgs)

OK Autrod 18.16 (analogue Svamg5)

OK Autrod 18.2 On

OK Autrod 18.22 (Svamg61

welding of pure Al

welding of alloys of silicon and aluminum or silicon, magnesium and aluminum: АДЗ5; AZZ, АДЗ1

welding Al and its alloys in the food industry, aircraft industry

welding of alloys containing 3% Mg: ASGM, AMg4, AMg5, AMg6 alloys with podobovtse

welding of alloys containing up to 5% Mg and alloys of aluminium with manganese and alloy aluminium alloys

for welding alloys with Mg content up to 5%, to obtain high-strength t-joints

welding of alloys with Mg content up to 6 percent, AMg6, 1AlMg4,5mn, AlMg5Mn and AlMg5Cr to obtain high-strength t-joints

Domestic aluminum wire

Sva5, Sva85t, Sva97, Sva99

Svamc

Swamps, Svamg5, Svamg6, Svamg61, СвАМг6З, Sv1557

СвАК1О, Svak5

Св12О1

technical pure aluminum alloy of aluminum and manganese

alloy of aluminum and magnesium

alloy of aluminum and silicon

alloy of aluminum and copper
An example of a designation can serve as this entry:
СвАМц5,00хБТ GOST 7871−75. So designated welding wire, extruded aluminum alloy Svamc, cold-worked condition, Ø 5 mm supplied in the Bay.
Buy at best price
LLC «AVEK global» is a company that is implementing the non-ferrous metal on the most favorable terms. In stock provided a range of wire from aluminium and its alloys. From order volume and additional conditions of supply depends on the price. At wholesale enjoy significant discounts. Our managers are always ready to answer any questions and provide expert assistance. A large range will not leave you without a choice. Our firm ensures timely delivery. All products are certified. Quality is guaranteed by strict observance of all norms, standards and technologies in the production process.