Wire KHN60VT - ЭИ868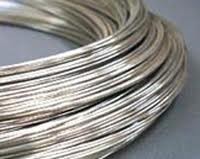 Relevance
Wire brand KHN60VT chromium-Nickel alloy intended for the production of parts that operate at high temperatures (not above 850ºС) in aggressive chemical environments. The high content of Nickel and chromium ensures high corrosion resistance wire. Such properties of the alloy as malleability and ductility make it possible to produce wire of minimum diameter.
Production
Chem.the alloy composition is regulated by GOST 5632−72. The alloy is melted in open electric furnaces, which ensures a minimum content of unwanted impurities. Under the available wire diameters.
Chemical composition
Ni
Cr
Fe
W
Ti
Mn
Si
Al
Ca
With
S
P
up to 63.2
26.5
up to 4
13−16
0,3−0,7
to 0.5
to 0.8
to 0.5
to 0.05
to 0.1
0,013
0,013
General characteristics
Wire KHN60VT has a coefficient of linear expansion equal to 13.7 (1/deg K). Density = to 8.16 g/cm3. The mechanical properties change depending on the current temperature. The conductivity change in the range of 15.9 to 23.4 W/(m•deg K). Wire KHN60VT, thanks to the balanced composition has good weldability, which facilitates installation of sophisticated equipment and does not require a final heat treatment after welding.
The surface of the wire is not susceptible to oxidation during long-term operation and high temperature. This wire is plastic, which makes it popular in the production of household and industrial appliances. It possesses stability in an oxidizing atmosphere, in an atmosphere of ammonia and nitrogen. However, its main drawback is that the wire has no resistance in the atmosphere of sulfur compounds and sulfur. It has a high cost, because of the high cost of the main components — Nickel.
Hardening
At increased requirements to the structure of the wire is subjected to quenching at t º 1000 — 1100ºС with subsequent cooling in water or air. It promotes the normalization of internal stresses in the alloy and increasing the strength characteristics of parts.
Use
Wire brand KHN60VT is in great demand in the electric furnace heaters for almost all areas of industry. For example, in kilns drying and calcination, electric furnaces, heating effect, household appliances. It is used in a rheostat and resistor elements, as well as in the production of vacuum devices, soldering of high reliability. It can also be used as a cutting and a heating element in thermal packaging knives, industrial and domestic with hot-air heating and water heating systems. In the production of coils length of wire is determined based on the required power. Its high ductility allows for rolling at low temperatures, thereby reducing energy costs. The most widespread use of wire KHN60VT finds in petrochemical engineering.
Buy at best price
The company «AVEK global» sells wire from heat-resistant chromium-Nickel alloys at an affordable price. It is formed taking into account technological features of production without the inclusion of additional costs. We have the most variety of products for large-scale production. We offer good conditions for wholesale and retail buyers. On our website You will find all the necessary information. Our consultants are always ready to answer your questions. Implementation of orders in the shortest possible time. Wholesale buyers are offered preferential discounts.