Circle, rod 10x17h13m2t - 1.4571 - aisi 316Ti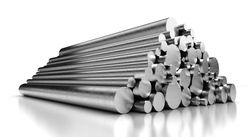 General characteristics
Round 10X17H13M2T is a rod of circular cross section with high corrosion resistance and strength. In some cases, the cross-section it may be oval. By GOST the deviation from roundness, but the difference in the deviation may not exceed 50%. The circle is produced by hot rolling and cold rolling according to GOST 5632−61, lap length, typically up to 6 m. the Diameter can be in the range of 2−150 mm. the surface of the circle 10X17H13M2T not subject to oxidation during long-term operation and high temperature, making it popular in the manufacture of domestic and industrial appliances. It is plastic, is resistant to an oxidizing atmosphere, to an atmosphere of ammonia and nitrogen. However, its main drawback is that the circle does not have stability in the atmosphere of sulfur compounds.
Production
Round 10X17H13M2T (analog AISI 316Ti) contains 17% chromium, carbon, — 0.10%, and Nickel — 13% titanium — up to 0.7%, balance is iron. The doping improves heat resistance and heat resistance, ability to withstand the effects of corrosive environments. The circle of requirements to structural elements subjected to quenching at 1000 — 1100ºС with further cooling in water or air.
The percentage composition of the alloy GOST 5632−72
Mark
C
Si
Mo
Cr
Cu
Mn
Ni
Ti
S
P
Fe
10X17H13M2T
≤0,1
0,8
2−3
16−18
≤0.3 mm
≤2
12−14
≤0,7
0,02
0,035
the rest
Use
The alloying components of the alloy allow to use the circle 10X17H13M2T in various fields of industry. Having a good combination of chemical resistance and strength, it is widely used in the manufacture of petrochemical equipment, prefabricated and welded structures for the production of ammonia. Such a range capable of ensuring reliable performance and long service life of parts at operating temperatures above 850 °C under high pressure. It is used in the energy sector, in the production of equipment for metallurgy and parts of furnaces for heat treatment.
Buy at best price
The circle marks 10X17H13M2T is widely in demand in the metal market, due to the low price and large number of variations. Quality circle is guaranteed by strict observance of technological norms of production. Orders are implemented in the shortest possible time. If you have any questions You can ask for advice from experienced managers. Large range of stainless steel products in stock LLC «AVEK global» allows you to purchase all the necessary products in one place. For wholesale orders the company provides a substantial discount.