CuAl11Fe3 - C62400 rod, tape, wire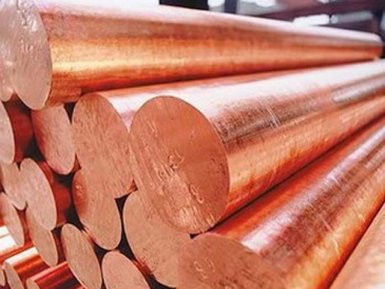 Supplier — AvekGlob Company — offers at affordable prices from the manufacturer bars, tape, wire, which are made of aluminum bronze grade CuAl11Fe3 (alloy C62400). The supplier guarantees the timely delivery of products to any address specified by the consumer.
Technical specifications
Alloyed with an increased amount of iron and aluminum, bronze grade CuAl11Fe3 (also called alloy C62400) is characterized by high strength, which is comparable to that of mild steel. The alloy has a golden color. The addition of iron contributes to a more uniform grain size and increases mechanical strength, and an increased percentage of aluminum increases the corrosion resistance of the alloy. This copper-aluminum alloy can be heat treated to modify the performance characteristics.
Urgency of application
Typical use of bronze grade CuAl11Fe3 (alloy C62400):
Civil construction and architecture — exterior decoration of buildings;
Mechanical engineering — pumping and valve components, high-strength fasteners;
Electrical engineering electrical contacts and pole connectors
In marine business — the manufacture of parts of vessels in contact with sea water.
Chemical composition
| | |
| --- | --- |
| Element | Content (%) |
| Cu | 82.8−88.0 |
| Al | 10.0−11.5 |
| Fe | 2.0−4.5 |
| Mn | Not more than 0.3 |
| Sі | Not more than 0.25 |
| Sn | Not more than 0.20 |
| Other elements and impurities | Not more than 0.5 |
Physical and mechanical properties
Density, kg / m 3 — 7450;
Melting point, 0 С — 1027;
Modulus of elasticity, GPa — 117;
Coefficient of thermal conductivity at room temperature, W / mgrad — 58,6;
Coefficient of thermal expansion, μm / deg — 16,5;
The limit of temporary resistance, MPa — 655;
Yield strength, MPa — 330;
Relative elongation at tension,% — 15;
Rockwell hardness (scale B), no more than 92.
Assortment and application features
Aluminum bronze grade CuAl11Fe3 (alloy C62400) is available in a wide range of profiles and cross-sectional dimensions. Mechanical machinability of the alloy is average, weldability is good (gas acetylene welding and soldering are not recommended). The temperature range of forging is 760… 885 0 C. Plastic deformation in the cold state is inappropriate.
Supplier — AvekGlob Company — offers to purchase bar, tape or wire made of aluminum bronze CuAl11Fe3 (alloy C62400). Products can be bought at a price formed on the basis of European and world standards of production. Implementation is possible in bulk and retail, for regular customers, a flexible system of discounts operates.