Molybdenum pipe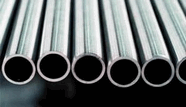 Dignity
Molybdenum tubes have exceptional mechanical strength, refractoriness and corrosion resistance. They are resistant to the most corrosive media, concentrated solutions of acids and alkalis — sulphuric, hydrofluoric and hydrochloric. These tubes have a high modulus of elasticity and a small thermal expansion coefficient. Their lifetime is significantly higher than the same products made from other metals. They are very reliable, durable. demanded in the most difficult conditions of modern production.
Mark
The composition of impurities in%, not more
Si
Ca+Mg
Al+Fe
Ni
H
O
C
Ti
B
N
MCIT
0,014
0, 0,005
0,018
0,005
0,001
0,005
0,030
0,008
MCH
0,014
0,005
0,018
0,005
0,001
-
0,015
-
MBIT
0,014
0,005
0,018
0,005
0,003
0,005
0,005
0,07
0,005−0,025
0,008
Disadvantages
Practically the only disadvantage is the high cost of such pipes, since the molybdenum refers to rare earth elements, in its purest form is quite difficult to identify. Besides, he is refractory and hard to work.
Application
Technical progress of modern industry is directly dependent on the introduction of new generation of materials and high technology. Such products include pipe refractory metals, niobium, tungsten, chromium, tantalum. But one of the best today are molybdenum tubes with exceptional quality. Alloying with molybdenum (up to 0.8%) alloys and steels so increases their strength, hardenability, hardness, toughness, resistance to aggressive environments, which allows them to apply in the production of the most important parts. Such areas, where applicable, molybdenum pipe — a large number. This is the aerospace industry, chemical industry, defense industry, nuclear energy. If you want high reliability aggressive environments at temperatures above 1000 °C, the molybdenum pipes have no alternative. As a rule, they are produced with a thickness of 1−2. 5 mm and a diameter of 20−30 mm.
Buy at best price
In stock LLC «AVEK global» — the widest range of products from rare and refractory metals. We offer pipes of any diameter for a reasonable price. Our specialists are ready to answer any questions and to help in the selection of necessary materials, upon request, will provide all the necessary information about the product, cost and delivery time. Rates depend on scope of delivery and additional conditions. For wholesale orders discounts. Buying products of the company «AVEK global», You will find a worthy partner.