Copper tire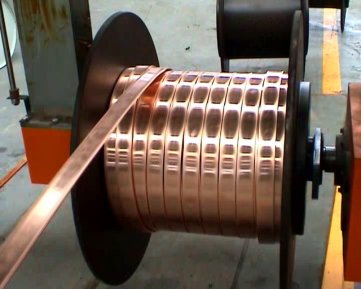 Advantages
Tires made of copper have a very high plasticity, durability, electrical, thermal conductivity, durability, reliability. They are resistant to corrosion. Tires of this type are very economical, easy to operate, maintain. Easily deformed in cold or hot conditions. After disposal — must be recycled.
disadvantages
Perhaps not the most serious — is not very great strength, in comparison with steel.
Production
Standardized TU 48−0814−105−2000 and state standards 434−78 of grades of copper M1, M0b, M2 with the chemical composition in accordance with GOST 859−2001. The sampling process for the composition control is normalized to GOST 24231−80. When choosing tires, pay special attention to their appearance — all surfaces must be matte, clean and light. The edges should not be delaminated or have any cracks or burrs.
Marking
When buying, pay attention to the marking — it will indicate the purity of the alloy and the composition of the alloying elements. Thus, for example, the grade M0b corresponds to anoxic copper with the minimum content of impurities. Such a tire easily yields to plastic deformation and soldering at high temperatures. Marking M1 or M2 — corresponds to a high percentage of oxygen. In order for such a tire to weld or weld, special treatment is required. In order to determine the state of the material, you should also be guided by the marking. So, solid tires will be labeled as CMT, soft tires like CMM.
Application
Electrotechnical industry, nuclear power engineering, machine building. Most often, a copper bus is used when installing busbars for trolleybus lines. They are also widely used in the manufacture of equipment intended for space or vacuum equipment. Such tires serve for the production of linear accelerators, various electronic devices or superconductors. Of these, linear accelerators, switchgears, superconductors and electronic devices are manufactured.
| Thickness in mm | Width in mm | Unit | Cost |
| --- | --- | --- | --- |
| 3−12 | 20−120 | Bus copper marking Mob, kg | By agreement |
| 3−12 | 20−120 | Bus copper marking M1, kg | By agreement |
| 2−8 | 20−12 | Tire copper marking M2, kg | By agreement |
Buy at a bargain price
In the warehouse of «Avek Global» LLC an unlimited range of products from non-ferrous metals at the best prices. The offered choice will satisfy any customer. You can buy any kinds of copper rolled products using the company's website or by contacting our representative office. The quality of products is guaranteed by strict observance of technological norms of production. The lead times for orders are minimal. The level of prices depends on the volume of the order, as well as other conditions of supply. For wholesale orders a flexible system of discounts is provided.