Rare metals rental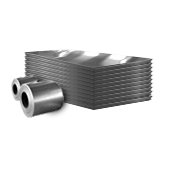 Types of metal
Metal is considered metal products non-ferrous or ferrous metals with special machines cold rolled or hot to the required parameters. The material for products can be aluminum, steel, titanium, copper, tungsten, etc., the Complexity of the production technology and the cost of this will be completely different. There are a large number of subspecies rental: shapes, pipe, sheet, bar stock.
Choice
Assorted metal usually has a round or oval cross-section rolled metal. Shapes different from the varietal to the fact that its section is more complex. And sheet metal is sheets of different metals, of different sizes. The most frequently used representative rental is considered a metal corrugated sheet. Due to its characteristics this kind of metal is used for both internal and external finishing. Pipe refer to pipe metal. There are two types of pipes: 1) seamless, 2) welded. Often used so-called decorative metal — cast parts or elements that are used for decoration of arches, fences, arbors, and so the metal can be distinguished by the scope of its use. In construction, for example, greater use is made of galvanized steel, and shipbuilding, aircraft use special types of rolled products.
Today, the technology of metal uses a new more advanced innovations. It can be bought at a very affordable price. It is used in almost all areas: heavy industry, agriculture, refining industry, and everyday life. Metal is considered as the optimal material due to its undeniable qualities.
Buy at best price
In stock LLC «AVEK global» — the widest range of metal at the best prices. Our specialists are ready to answer any questions and to help in the selection of necessary materials, upon request, will provide all the necessary information about the product, cost and delivery time. Rates depend on scope of delivery and additional conditions. For wholesale orders discounts. Buying products of the company «AVEK global», You will find a worthy partner.