Bronze rolled Din, En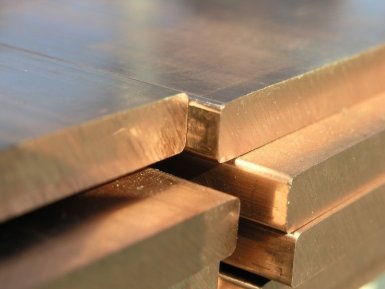 Bronze is an alloy based on copper. The main component of bronze is tin. But not always. Bronze alloy can also be tinless. Bronze parts are produced by pressure or casting.
Advantages
In production, bronze containing tin is most often used, since this metal is very durable, it is easy to machine. At the same time, bronze is inexpensive, durable and plastic, conducts electricity and heat well. The worn out part is recycled and after processing metal is used in production again. In comparison with brass, bronze has much better antifriction and mechanical properties, as well as a level of resistance to corrosion. Most types of bronze (except aluminum) are easily welded and soldered with soft or hard solders.
Production
The production of bronze parts is governed by GOST 24301. For the production of bronze blanks mainly used methods of chill or centrifugal casting. The diameter of all products is between 20 and 1200 mm. Avek Global LLC produces parts of the most diverse types and sizes, for example, such as wire, ingot, pipe.
Application
Bronze alloys are very technological in the manufacture of parts. Such details are in demand in any industry. The most common production from foundry alloys, beryl bronze, aluminum bronze. Bronze deformable alloys are the most valuable material for the production of liners, springs, various bushings. Casting types of alloys produce bearings, gears and other critical parts. It is worth noting that they all have excellent anti-friction properties. Any details made of beryllium, bronze do not spark at all during impacts, they are used in explosive conditions.
«Admiralty Bronze» has tin and zinc in its composition, a stand for corrosion in salt water, it is used for production of ship superstructures and propellers, elements of hulls and shafts. Aluminum bronze is particularly light and high specific strength, it is in demand in transport engineering. A high degree of electrical conductivity is important in electrical engineering. Bronze rolling can be used in the erection of monuments, for the production of figurines, candlesticks, etc.
Buy at a bargain price
LLC «Avek Global» produces various shapes and types of parts. These details are in stock. The price will depend on your wholesale order. Terms of manufacture and delivery will be the most minimal.