Brass rods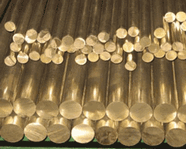 Manufacture of brass rod
Brass at its core may be not only two-component alloy of copper and zinc, but also multi-component, which includes aluminum, silicon, tin, Nickel, iron, lead and manganese alloy. Extruded and drawn brass rod produced according to GOST 2О6О-2ОО6 (chem. The composition is regulated by GOST 15527−2ОО4.). Preparation and sampling for making control composition is regulated by GOST 242З1 IS equal to 8. In addition to this, brass rods can be made with anti-magnetic characteristics, they are made of a suitable non — magnetic alloys according to GOST 15527.
Brass rods are produced:
profile
length
precision
condition
Avtomagnitoly type

— square,

— hex,

— round

— oval

— in coils,

— random,

— dimensional

— the normal exactly

— elevated,

— high

— soft,

a semi — hard,

— solid

— antimagnetic with cut ends,

— soft with a high level of plasticity,

— semi-solid with a high level of plasticity,

— solid with a high level of plasticity,

— conventional plasticity pressed
Excellent physical characteristics of the brass rod allow to make any machining, including drilling, to carry out milling, cutting, to produce solder, weld and carry out the stamping process.
Application
Valuable performance characteristics of the brass rod are the high level of resistance to corrosion, namagnichennosti, excellent manufacturability. These qualities are the reasons that it is used in very diverse sectors of the economy: in instrument making and mechanical engineering, car and shipbuilding, in aviation and the aerospace industry. Brass wire is an indispensable material in the production of electrical appliances, plumbing parts, some parts gas regulators. It produces gears, bolts, nuts, screws, accessories, many kinds of valves and water regulating systems, parts for Electromechanical installations and for reciprocating machines. Often used the brass rod also in the watch making industry, for production of small components and for making parts of buildings.
Buy at best price
The company «AVEK global» sells high-quality brass rods of different brands. The cost of our products depends on current copper prices, as well as some additional conditions of delivery. Our company offers good conditions for wholesalers and retail buyers. On the website of the company «AVEK global» You will find all the necessary information our online consultants are always ready to answer your questions. We guarantee high-quality products and the timeliness and accuracy of your order.