L63 - 2.0321 - СuZn37 - C27200 sheet, strip, pipe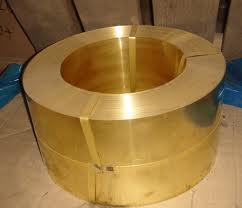 General characteristics
All brass divided into: two-component, that is a simple and multicomponent, that is special. Brand of brass, marked with the letter «L» and a two-digit number reflecting the percentage of copper, are 2-component alloys. Double brass L63 in its composition contains about 63% copper, 34 to 37% zinc. This brass has good strength, is sufficiently malleable material. Brass L63 (GOST 15527−2004), not subject to corrosion. It is widely used in production, most often for the manufacture of pipes.
Brass L63
The main components
Pb%
Fe%
P%
Sb% Bi%
Si
Zn
62−65%
34,22−37,5%
0,07%
0,2%
0,001%
Of 0.005% and 0.002%
Two-component brass refers to an alloy L63, consist mainly of copper and zinc, plus additional impurities in small amounts. At room temperature the limit of dissolution of zinc in copper is not more than 39 percent. With increasing temperature it decreases slightly and at t° 905 °C is 32%. It is for this reason brass, which contains less than 39% zinc, has a single phase structure of the solution of zinc in copper. If the alloy zinc content slightly higher then he is simply unable to completely dissolve in the copper, so after curing, so the brass gets too hard but brittle, so two-phase alloys have higher strength but lower ductility than single-phase. When the content of zinc up to 30%, significantly increasing the strength of the alloy without loss of ductility. Then the ductility to some extent reduced.
Most brass is fairly well handled pressure. Very plastic and are of single-phase brass. They are perfectly subject to deformation as at very low and at elevated temperatures.
Buy at best price
To see more details with the products, to clarify its basic qualities, place your order, you can through the website of our company LLC «AVEK global», which specializiruetsya on the supply of non-ferrous alloys. We offer products from warehouses in Ukraine and Russia with delivery to any region of the CIS. All products are certified. The timing of orders is minimal. For any questions, you are always ready to advise experienced managers. For wholesale orders there is a reduced discount.