Sheet, strip KHN38VT - эи703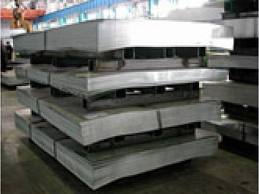 General characteristics
Alloy brand KHN38VT is heat-resistant high-alloy carbon steel. In its composition contains Nickel 34−38%, chromium, 14−16%, iron 38−47%. The alloy is alloyed with titanium is about 1.1−1.5 percent copper, up to 0.25%, manganese-1−2% tungsten is 2.3−3.5%, molybdenum up to 0.3%. The temperature of the steel raskopki first is 1170 °C, and at the end of — 850 °C. this Steel grade belongs to the category of structural steels, which are used for the production of a variety of mechanisms, different parts of complex construction structures and mechanisms working in aggressive conditions. To increase the reliability of the weld requires preheating to 200−300°C the final annealing.
The chemical composition of the alloy KHN38VT ЭИ612 (%)
Alloy
Cr
Ni
w
Mn
Ti
Si
Cu
Mo
P
Fe
S
HN35VT
14−16
34−38
2,3−3,5
1,0−2,0
1,1−1,5
to 0.6
to 0.25
to 0.3
0.03
The rest
to 0.02
Production of flat rolled
High plasticity steel grade KHN38VT allows laminating the thin tape, sheet, foil. Finished steel cooled in air.
Rolled plates KHN38VT (4−160 mm) is made according to GOST 19903−74 and 1577−93. Thin sheets (0.5 to 3.9 mm) produced hot-rolled method based on GOST 16523−89; 19903−74. Thin hot-rolled sheet is heat-treated method, and its surface is netravlenoy and etched. KHN38VT steel sheets are galvanized, whose width is 710−1800 mm, thickness 0.5 — 2.5 mm. the Sheet KHN38VT marked: N — normal, D — deep, HS — very deep drawing. KHP — cold forming, IT is General purpose for painting the PC (a trained).
Use
Corrugated sheet and expanded metal — used in non-slip coating for through-bridges, stairs, service platforms. Such designs are required at facilities petrochemical oil, gas industry, power plants, erection of structures for different purposes. Steps and stairs made of such a sheet is popular in construction. Sheet KHN38VT can be used for the manufacture of fire doors, window frames, railings of balconies, porches, Ribbon is used for parts of high temperature installations that are operated in mechanical engineering and petrochemical industries. Tape and a sheet of stamps KHN38VT indispensable in the production of heat-resistant discs, flat springs, fasteners.
Buy at best price
The big range of strip, sheet and foil stamps KHN38VT in stock LLC «AVEK global» can satisfy any consumer. The quality of the finished product is ensured absolute compliance with all technological norms of production. The order execution time is the shortest. If you have any questions, you will receive detailed advice from experienced managers. For wholesale orders the company provides a substantial discount.