Stainless ropes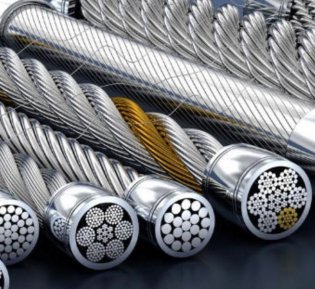 Stainless steel ropes are often used in the construction and assembly work of metal products for the purpose of moving all kinds of cargo. The most popular are the rope 12Х18Н10Т according to GOST 2172−80 and the rope for special working conditions — TU 14−4-278−73. Both types are widely used as structural components of load-lifting mechanisms in the extractive industry, in metallurgy, machine building, installation and construction. In modern aircraft construction, air ropes are used, in shipbuilding — load-protective ropes and so on. Widely used special stainless ropes are nuclear power plants, the same ropes of TPPs and power are also in demand, thanks to their ability to work under increased load.
Ropes differ from each other with all sorts of technical characteristics. But all of them are made of high-carbon steel. Stainless steel ropes due to galvanizing are widely used in aggressive conditions, as the galvanized rope is distinguished by its corrosion resistance. The construction of a stainless rope can be made with a 1-st, 2-nd or 3-nd rope. The shape of the cross-sectional area is round and flat. Special ropes made of steel are produced by a rather complex manufacturing technology, implying a high level of danger. They differ in their physical, as well as mechanical properties, which directly depend on the used wire and core grades. These materials determine the level of loads that a stainless can withstand . Ropes. Accordingly, the purpose of the ropes is also different, in most cases the price of special ropes depends on it.
In Ufa to date, you can buy stainless ropes 2172−80, as well as TU 14−4-278−73, which regulate all technical requirements and design characteristics of this product. Both types of rolled metal are produced in a thickness of 1.6 — 9.6 millimeters.
Correctly marked stainless ropes give the buyer information about the mechanical and strength properties of the used povolok, about its coverage, about the shape of the shear area, including the cross-section of the elements themselves and the type of core, the type of the rope, the degree of steadiness and steepness, the method of manufacture, accuracy and, of course, the purpose Rope. Buy stainless ropes you can always, specifying its price on the site of the online store, along with the terms of delivery and other information.