Alloy 20X13, pipe and other metal from warehouses in Ukraine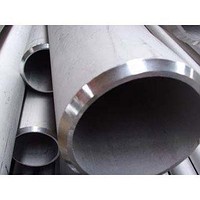 General Characteristics
Make 20X13 — is heat-resistant stainless steel alloy. Used in production of lightly loaded parts, which operate at temperatures of 900−1000 ° C. It includes a chrome of 12 to 14% nickel, manganese, and silicon to 0.6% carbon 0, 16 — 0,25% thousandths of a percent of sulfur and phosphorus at rest — iron.
Production
Low hot deformation is 1100 ° C at the beginning and end — 900 ° C. The finished product is cooled in air. Pipes on the accuracy of production can be increased and the usual accuracy. Made the following types of pipe: seamless tube hot rolled, cold rolled and pipe teplodeformirovannaya general purpose electric-welded pipe. They are in demand for industrial design and construction of pipelines. Making tubes regulated following GOST 30245−2003, 10706−76, 10705−80, 380−94, 13663−86, 1050−88, 8639−82, 8642−68, 8645−68, etc. Each of standards specifies the individual characteristics of the product For example, certain of the pipe section.
Welding
Performed after heating to 250−400 ° C with a final thermal treatment. Bonding of structural elements and the arc tube made by manual or automatic welding. final heat treatment is recommended for stress relief during welding. Welded tubes are of the following types: profile with a square cross-section, welded round, oval and rectangular in cross-section,
Application
Pipes brand 20H13 demand in metallurgy and petrochemical engineering, because it provides quality alloy manufacture long-life performance under load at temperatures up to 900 ° C. More than 900
On the surface begins scaling. In the industrial and municipal water and gas systems, such a tube is widely used for the liquid and gas, installation of heating systems.
Assortment
The pipes can be of different types of threads: a cut thread and knurled cylindrical or without it. It all depends on the wishes of the buyer. Range and size of the pipes meet the requirements of GOST 3262−75. Pipes supplied in various lengths. 4 — 12 m — dimensional length of the pipe times the volumetric length, the length of which is estimated in the range of dimensional. Each allowance is cut to 5 mm, longitudinal deflection of pipes should not prevyshat10 mm at full length.
Buy at a bargain price
The company «Avek Global» sells pipes of heat-resistant alloys at an affordable price from the manufacturer. We have the most different products for large-scale productions. We offer favorable conditions for both retail and wholesale customers. On our site you will find the necessary information. Our consultants are always available to answer questions. Price depends on the size of the order and the additional conditions of supply. The implementation of orders — in the shortest possible time. Wholesale customers a substantial discount.