Tape, foil 20KH20N14S2 - 1.4828 - aisi 309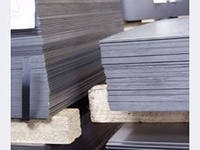 Production
Steel tape, sheet, foil stamps 20KH20N14S2 made on the basis of high-alloy chrome-Nickel alloy, whose composition contains chromium-19−22% and Nickel 12−15%. As additives to the mixture is added manganese up to 1.5%, 0,3% Cu, 2−3% Si, carbon and titanium 0.2%, sulfur and phosphorus — thousandths. Temperature raskopki semi-finished products at the beginning is 1170 °C, and in the end — about 850 °C. Quenched sheet and strip in air at t° 1050−1150°C.
The manufacture of sheet normalized GOST 24982−81, which applies to hot-rolled and cold-rolled steel heat-resistant alloys iron-based, open lost wax casting method. Sheet metal typically has a thickness of 1 mm, easily weldable any type.
The percentage 20KH20N14S2 (GOST 5632−72)
| Cu | Si | C | Mn | P | Cr | Ni | S | Ti | |
| --- | --- | --- | --- | --- | --- | --- | --- | --- | --- |
| ≤0.3 mm | 2−3 | ≤0,2 | ≤1,5 | ≤0,035 | 19−22 | 12−15 | ≤0,025 | ≤0,2 | |
Classification
Sheet, strip and foil stamps 20KH20N14S2 are sorted by type of edge, flatness, precision rolling. Flatness is a special, superior, normal and high. Accuracy — high and normal. Edge — edged and not edged.
Application
Welded equipment for heavy engineering, energy, medical and chemical industries. Such equipment is especially in demand in those industrial sectors that require materials with high resistance to thermal stress: in the construction of engines, turbines, combustion chambers, various furnaces, heating units, etc. Boxes for cementation in metallurgy are intended to saturate the carbon with the help of diffusion. While low carbon steel acquires greater hardness and wear resistance. Usually cementation subject to alloys with a carbon content of not more than 0.2% and alloy steels. Carburizing is accomplished at a temperature of 850 — 900C. Sheet steel 20KH20N14S2 produce designs, parts for aerospace, missile defense. The high content in the composition of the alloy of Nickel and chromium allows products from it to withstand high temperature (1000°C) and not lose their high resistance to corrosive acidic environments.
Buy at best price
Large range of high-temperature rolled stock LLC «AVEK global» can satisfy any consumer. Sheet 20KH20N14S2 is one of the most popular types of steel products, due to the low price and large number of variations. The quality of the finished product is ensured absolute compliance with all technological norms of production. The order execution time is the shortest. If you have any questions, you will receive detailed advice from experienced managers. For bulk order, the company provides flexible system of discounts.