Cunial - CuNiAl wire, round, sheet, strip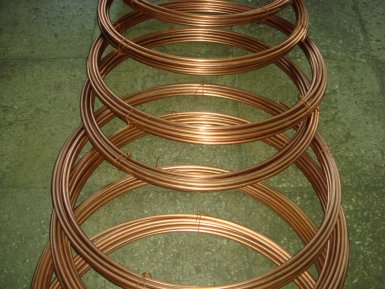 General characteristics
The name of the alloy cunial originated from the following chemical elements: copper (Cu), Nickel (Ni) and aluminum (Al). This alloy has high corrosion resistance, elasticity and high durability in sea water and atmospheric conditions. Cunial has two brands: (MNA 1Z-Z) cunial A. it contains 2, s-S, 0% Al 12−15% Ni + Co; (MNA 6−1,5) Kunal B, which contains 1.2% to 2.8% Al and about 5.5 to 6.5% Ni + Co.
Cunial-MNA 13−3
The main components
Al%
Fe%
Mn%
Pb
Si
Ni + With
Basis
12−15%
2.3−3%
1%
0,5%
0,002%
Cunial-B MNA 6−1,5
The main components
Al%
Fe%
Mn%
Pb
Si
Ni + With
Basis
5,5−6,5%
1.2% to 2.8%
0,5%
0,2%
0,002%
The basic qualities
Its chemical properties are close to properties of cupronickel (mark MN19) and Nickel silver. After heat treatment the alloy is hardened. Annealing takes place at a temperature of 900−1000°C in water and aging at a temperature of 500−600°C. At low temperature, the alloy retains its ductility and strength. It doesn't rust in water. The brand cunial B rupture strength in the aged condition at room temperature is 638 MPa, and its transverse contraction is 50%. When the temperature drops to -180°C resistance up to 700 MPa. Cunial melted at a temperature of 3200 °C.
Production
The alloy, A and B are produced in the form of bars which are pressed into the form of round bars and strips to produce parts of required size and density. Cunial process pressure only when hot. In this alloy, in addition to the basic elements also contains a number of impurities (silicon, lead, carbon, antimony and others). Copper-Nickel alloys have a tightly Packed crystal lattice. During the process of melting the formed solid solution. It is easy to handle. He is well-cut, stamped, polished. When increasing the percentage of Nickel in the alloy, it increases also the corrosion resistance, but, in addition, reduces the conductivity. This composition is suitable for making elements with high electrical resistance.
Application
Cunial used to produce parts which have a high strength and a high level of corrosion resistance, for example, in shipbuilding. It is also used for the manufacture of radio, springs, propellers, for the manufacture of medical instruments and other electrical items. It has a high frost resistance, it is used in cryogenic engineering. Cunial, And applied to parts where high strength, cunial B is used for the manufacture of elastic elements and springs.
Buy at best price
In stock LLC «AVEK global» there are many types of copper alloys at reasonable prices. The range will not leave without selecting a single client. Order and buy the various alloys you can through our office or online store of the company. Quality is observed for all technological norms of production. The time for the execution of the order is minimal. The price is given. It will depend on how much you order, and additional conditions of supply. If you order wholesale, a flexible system of discounts.