Copper sheet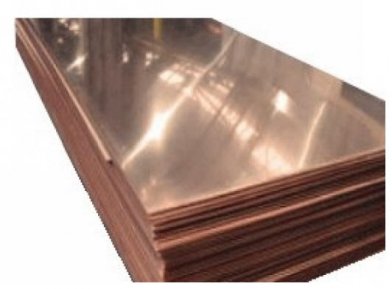 Dignity
Copper sheets are characterized by adaptability, high plasticity, relatively inexpensive price. They are available all types of soldering and welding, easy to cut, drilled, perfectly bent, polished. They have a high degree of thermal and electrical conductivity. They are resistant to the effects of soil or atmospheric moisture, resistant to temperature extremes, chemicals. This sheet is fire resistant, is fire resistance, additionally it is easy to install, has an aesthetic appearance, long service life and safety — all these qualities make it widely demanded. After disposing copper is usually used again.
Production
Copper sheet metal is made according to GOST 495−92 copper grades M1, 2, S (chemical. the composition of the normalized GOST 859−2001. Sampling for process control the chemical. the composition of the normalized GOST 24231−80. Available copper sheet soft and rigid, each of them has its advantages and has a separate scope. The finished product has a rectangular cross-section without bending the edges and clean surface without any burrs, neatly and evenly cut. To produce hardening of the leaves is used in heat treatment, after which the sheet passes the test. Due to the annealing increases the level of machinability of cutting material, the level of plasticity, and the required hardness is provided by cold deformation.
Application
Copper sheet is used in the production of electrically conductive, roofing materials, decorative elements, radiators, heating devices, wind instruments, power capacitors and much more. For finishing of the roof is excellent copper sheet M2r, M1 °F, these brands is well-processed and well keep heat inside the house, they perfectly withstand long-term adverse effects of the environment. Copper sheet — unique roofing material, it warranted at least 100 years. He has a high degree of resistance to corrosion, over time it only covers the film of oxides. It is difficult to replace in electrical engineering, industrial Hiii shipbuilding, the automotive industry. Copper is environmentally friendly, so it is highly demanded for water supply, the production of pottery, household items.
| Thickness in mm | Cutting in mm | Price per 1 kg. |
| --- | --- | --- |
| ABOUT 5−6O | Leaves copper brand MZ 6ООх15ОО | By appointment |
| 1O IS EQUAL TO 8 | The leaves are copper marks M1, HR 6ООх15ОО | By appointment |
| Oh, 5−12 | The leaves are copper marks M1 of the soft and hard 6ООх15ОО | By appointment |
| ABOUT 5−6O | Sheets brand copper M2 6ООх15ОО | By appointment |
According to the method of production, copper sheet can be cold (D) hot (D) drawn. Packaging, storage, transportation, temporary corrosion protection is normalized GOST 9.51О-9З.
Copper sheet
GOST
Tu
marking
Khimich.comp.
cutting
Cold-rolled
495
48−21−664
M1, MZ, M1r, M2, M2r, MWR
859
2,5−4, Ох6ОО-7ООх1ООО-2OOO
HR
767
48-О81О-2О9, 48−21−81, 48−21−5045, 48−21−427, 48−21−517.
MWR, M1, M1r, MZ, M2, M2r, M1F
859
Oh, 4−1O, Ох6ОО-32ООх1ООО-35ОО
Marking of copper sheet
A method of manufacturing
The precision (width, length)
length
material

G hot-deformed

(extruded)

up to 1O meters

D holodnokatny-controller (round steel bars)

For increased accuracy in width

L normal in 2-m parameters

And increased precision in length

M increased by 2 parameters

KD dimensional multiples

ND length

random

M soft,

Tons of solid,

N semi-solid

.
Steel hot-rolled sheet can be produced up to a length of 10 meters, cold rolled usually comes in rolls.
Example of designation: Sheet DPRK 1100x700x1450 M2 GOST 495−92.: cold-rolled copper sheet M2, semi-rigid, high accuracy by width, rectangular cross section, size — 1100x700x1450 mm.
Buy at best price
LLC «AVEK global» sells a range of products from non-ferrous metals at the best price. Selection will satisfy any customer. Order and buy copper sheet of any parameters is possible through our nearest office or through the Internet website of the company. Supply of strips in lengths or coil dimensional and multiple dimensional length normal manufacturing precision and strength with a standard surface finish. High quality is guaranteed by strict observance of technological norms of production. Packaging, storage, transportation and temporary corrosion protection is made in accordance with GOST 18690−82. The timing of orders is minimal. The price depends on order volume and additional conditions of supply. For wholesale orders flexible system of discounts.