Tape aluminum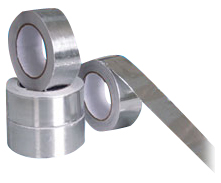 «It's not enough to invent something, it's necessary that someone should evaluate the invention» K. Izhikovsky
Production
The tape of aluminum has a thickness of about three millimeters. Selectable production methods, quality of blanks are reflected directly on the features, quality and functionality of the finished product. Alloys for the production of tapes meet the standards of GOST 13726−97. The brands AO, A5, A6, A7 are chemically consistent with GOST 11069−74; Grades АВ, В95, Д16, Д1, ММ, Д12, АМц, АМцС, АМг2, АМг3, АМг5, АМг6, 1105, 1915 — GOST 4784−74; Brand VD1, B95−1 — GOST 1131−76. Quality control is carried out in accordance with GOST 24231−80 .
The accuracy of production can be normal, or with symmetrical and asymmetrical deviations in thickness from the established norms. The surface is treated as standard. By appointment, the general-purpose and special-purpose tape is distinguished. Most often used alloys brands A5, AD1, as well as VD1, AMZ, 1105.
Thickness in mm
Width
Value
Oh, 5−1

Tape aluminum А5Н (food), А5М

11OO-12OOO

By agreement
Oh, 5−1

Tape aluminum АД1Н

11OO-12OOO

By agreement
Oh, 5−1

Tape aluminum ВД1АН2, ВД1АМ

11OO-12OOO

By agreement
Oh, 5−1

Aluminum band 11О5АН2, 11О5АМ

11OO-12OOO

By agreement
Oh, 5−1

Tape aluminum АМцН2

11OO-12OOO

By agreement
Advantages
Unlike steel tape, aluminum is not magnetic. Due to its plasticity, it can be rolled out in a thin layer, but it does not prevent it from preserving such qualities as heat resistance, as well as resistance to corrosive effects. It fully complies with established standards and biological safety. It is characterized by good electrical conductivity, excellent plasticity, easily deformed, cut, stamped, capable of withstanding significant pressure.
Application
Food products are wrapped in thin foil, which contributes to their longer storage. A thicker tape in the food industry has found its application, for example, in the production of cans and lids for canning. It is used in industry: as elements of lightweight parts of heavy engineering. It can also serve as an additional protection for joints from dust, dirt, harmful external factors.
Marking
Aluminum tape can be clad and non-clad. The first has the marking: A, if it is with conventional plating and B — with the technological plating. Deviations in the thickness of the finished product can be symmetrical and asymmetric. In the latter cases, the letters O (at the usual accuracy) and P (with increased accuracy) are written.
Marking
B
Technological plating
H1
Quarter-hardened
NC
Three-quarters hardened
M
Annealed
P
Elevated finishes
H
Hardened
H2
Half-horned
A
Clad usually
Elevated finishes
Self-adhesive tape for sealing the air ducts is made with a layer of glue applied. It is applied to a surface that is well cleaned of dirt and dust. Such a tape is made by rolling the required width or at a width of more than 1000 mm is cut along.
| name | Guest | marking | Dimensions |
| --- | --- | --- | --- |
| Aluminum Tape | 1Z726−97 | AM5BM, 11О5АМ, Д16чАТВ, АК4−1, 11О5АН, АД1М, 1561БМ, АД1Н2, 1561Б, АМг6Б, АОМ, Д19АТ, АОН2П, А5, А5М, А5Н, АМг5М, А5Н2, А5Н2П, А7м, АДМ, АДН, АД1Мп, АД1Н, AMg6BM, ADM, ADN, ADH2, AMg2M, AMg2N, AMg2N2, AMg2HP, AMgZ, AMgZM, AMgZH2, AMg5, D1AT, AMg6, D19A, AMg6M, AMC, AMCM, AMZN, AMZH2, VD1AT, D16AM, D16AT, D16HAT, D19AM, Д19чАТ, Д19чАТВ, Д1Т. | 0.25−5.0 x 40−2000 |
Buy at a bargain price
The company Avek Global LLC specializes in the sale of non-ferrous metal products. We offer products from warehouses in Ukraine and Russia with delivery to any region of the CIS and abroad. All products are certified and in stock. A large assortment will not leave you without a choice. We guarantee timely delivery. When bulk orders are given discounts.