KHN75MBTJU - ЭИ602 sheet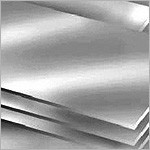 Relevance
Modern metal industrial design are often forced to work in the most demanding conditions. They are exposed to high temperatures, corrosive gases, liquids, withstand significant mechanical stress. Leaves stainless KHN75MBTJU designed to operate for a long period of time at operating t º no higher 800ºС, high stress in a corrosive environment.
Chemical composition KHN75MBTJU (in percent)
Ni
Mo
Cr
Fe
Nb
Si
Al
Mn
Ti
With
S
Cu
to 77.6
1,8−2,3
19−22
up to 1
0.9−1.3
to 0.8
0.35−0.75
to 0.4
0.35−0.75
to 0.12
to 0.012
to 0.1
Basic properties
Coefficient of linear expansion of 12.4 (1/deg) at a temperature of 100 °C. Density = 8.3 g/cm3, the heat capacity of 13.45 W/(m*deg). The alloy has a coefficient of thermal conductivity of 0,126 • 102 W/(m • K). This steel, thanks to a good chemical composition has high weldability, which allows to produce the ckj;yst design technology without using special equipment and without additional heat treatment after welding.
Hardening
To impart additional hardness to the recommended hardening at t º 1000 — 1100ºС, followed by cooling with water or air. It promotes the normalization of internal stresses of the material, increases the strength characteristics of parts.
Application
Due to the high strength, corrosion resistance, heat resistance, sheet KHN75MBTJU finds the widest use. Him weld sheet metal, flue pipe, fragments of high-temperature plants for petrochemical engineering for the production of ammonia. Leaves KHN75MBTJU used primarily for constructions, which require long-term, trouble-free operation at temperatures of 700−850ºС, a large supply of mechanical strength. Quality material allow you to apply all the modern technology of metal: grinding, cutting, polishing, as well as any welding technique. A large range of sizes produced sheets can facilitate the selection of the most appropriate of the workpiece.
Buy at best price
A large range of products from alloy KHN75MBTJU, including sheet metal stock LLC «AVEK global» can satisfy any consumer. Quality is guaranteed by strict observance of technological discipline. The timing of orders is minimal. If you have any questions, you will receive detailed advice from experienced managers. For wholesale orders the company provides flexible system of discounts.