Sheet, strip 20X13 - 1.4021 - aisi 420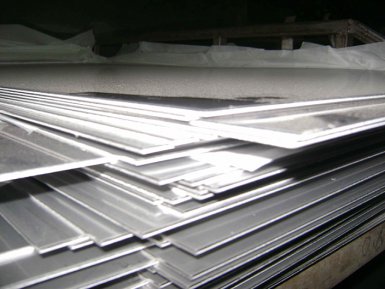 General characteristics
Mark 20X13 — is heat-resistant stainless steel alloy of the martensitic class. Used lightly in production of parts that operate at temperatures of 900−1000°C. the composition includes chromium, 12−14% Nickel, manganese and silicon at 0.6%, carbon 0,16 — 0,25%, thousandths of a percent of sulfur and phosphorus. The balance is iron.
The chemical composition of (GOST 5632−72)
| Alloy | Si | C | Mn | P | Cr | Ni | S | Fe | |
| --- | --- | --- | --- | --- | --- | --- | --- | --- | --- |
| 20X13 | ≤0,6 | 0,16−0,25 | ≤0,6 | ≤0,035 | 12−14 | 0,6 | ≤0,025 | Basis | |
Production
Plastic deformation is carried out in the temperature range from 1100 °C to 900 °C. the Finished rolled steel in sheet and strip 20X13 cooled in air. Hot-rolled thick plate (4−160 mm) is made according to the following GOST: 19903−74 and 1577−93. Thin sheets (0.5 to 3.9 mm) produced hot-rolled method (GOST 16523−89 and 19903−74). Thin hot-rolled sheet is heat-treated method, and its surface is netravlenoy and etched. 20X13 steel sheets can be galvanized, their width is 710−1800 mm, thickness 0.5 — 2.5 mm.
Marking
The sheet can be: N — normal, D — deep, HS — very deep drawing. The designation H. P. — means the cold forming, IT is General purpose for painting (PC, a trained).
Use
Sheet and strip stamps 20X13 have the widest scope of products high temperature installations that are operated in mechanical engineering and petrochemical industries. These dumplings are indispensable in the production of discs, flat springs, fasteners, capable of operating over a wide temperature range. They are used for parts of steam generators, pumps, cracking plants. This steel is widely used in petroleum, chemical industry, medical and food industries, as well as in the creation of architectural decorative elements.
Corrugated sheet and expanded metal is indispensable in the form of a non-slip coating for through-bridges, stairs, service platforms. Such designs are required at facilities petrochemical oil, gas industry, power engineering, shipbuilding and construction.
Buy at best price
The choice of stainless steel alloys — not such an easy task because here we must consider a number of factors. Among similar products of «AVEK global» the greatest demand nichrome wire, nichrome strip, tape, sheet and ribbon 20X13 Constant stock and the most affordable prices make it easy to buy these products. When wholesale purchases are offered preferential discounts.