Copper wire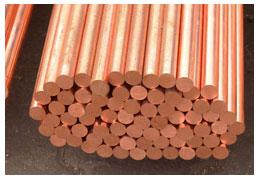 Dignity
Copper rod is characterized by great workability, easy to install, it is quite easily amenable to such methods of treatment, as cutting, drilling, punching, pressing and milling. It is available for all types of soldering or welding, relatively inexpensive, workable under the temperature from +250°C to cryogenic. High thermal and electrical conductivity, corrosion resistance, reliability, excellent aesthetic appearance, a great life and full compliance with the strict standards of sanitation are making the copper rod in demand in various spheres of production. After disposing copper is often used repeatedly. Almost the only disadvantage of the copper rod is its low strength, but if you compare it with a steel rod.
Production
Length
Accuracy

According to the method of production

GOST 1535−91

Profile

— measuring length

— random length

— dimensional

— AV to handle

machines

— P high

— In high

— N normal

cold

(pulled)

hot-deformed (extruded)

— KV square

— CG hex

— CU round
Copper rods are available in semi-solid, soft and solid state of the copper grades (in terms of the GOST 859) M1r, MWR, M1, M2r, M2, M. Z. an Example of a formulation: copper wire M1, round steel bars, hard, round, high-level precision production, Ø 10 mm, random length, intended for processing by machines.
Use
Dignity copper rod — high technology, excellent level of corrosion resistance, environmental safety make it a blank of the generic type suitable for different sectors of the economy. It is widely used in shipbuilding and the automotive industry. This valuable semi-finished product is actively used for the production of valves, bushings, gears, nuts, shafts, washers, bolts in the instrument. Safe for humans products made of copper are widely used in systems of gas and water. An excellent degree of electrical conductivity makes copper rod in demand in the field of electrical engineering and energy for making elements of buildings and parts of the conductive structures.
Buy at best price
In stock LLC «AVEK global» is always available a wide range of rolled copper at reasonable prices. We offer a selection that will satisfy even the most discerning buyer. Contacting our office, you can make your order and make a purchase. You can also use the Internet website of the company. Quality is guaranteed by strict observance of technological norms of production. Storage, transportation process, packaging and temporary protection against corrosion is carried out in accordance with the terms of GOST 9.510−93. Your order will be delivered in the shortest period of time. The price depends on supply conditions and the order quantity. Wholesalers are offered a lucrative discount program.