Wire, round, rod 08kh22n6t - эп53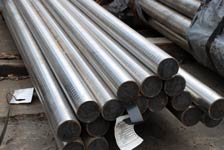 Production
08KH22N6T steel is smelted in electric arc furnaces. This is a plastic heat-resistant and heat-resistant. alloy based on iron, alloyed with Nickel to 6.3% and chromium — 21−23%. As additives to the charge added by Titan to 0.65%, copper — 0.3%, manganese and silicon, 0.8%, phosphorus and sulfur — hundredths of a percent.
Alloying brand 08KH22N6T (GOST 5632−72)
| Cu | Si | C | Mn | P | Cr | Ni | S | Ti | |
| --- | --- | --- | --- | --- | --- | --- | --- | --- | --- |
| ≤0.3 mm | Of ≤0.9 | ≤0,08 | ≤0,8 | ≤0,035 | 21−23 | 5,3−6,3 | ≤0,025 | ≤0,65 | |
General characteristics
Round 08KH22N6T is a metal rod with a circular cross section. It usually produces a length of 2−6 m Length can be dimensional, random and dimensional. Precision manufacturing is marked by the letters A, B, C, which means high precision, improved accuracy and conventional production. According to the method of heat treatment range is thermally treated — T, without heat treatment and N — full hard (repeatedly subjected to rolling). Temperature during ruskovce decreases from 1150 — 1180 °C and 850 °C. Recommended hardening at t° is not higher than 1200 °C with cooling in air or in water. Rod quenched at t° 1050−1150°C in air. This alloy is easily weldable. For manual electric arc welding used electrodes OzL-35, OzL-25.
Advantages and use
Products range 08KH22N6T actively used in mechanical engineering. Temperature of operation can reach 1250−1300°C for a long time, while they lose strength quality. The circle is used as a workpiece for the production of axles, bushings, pushers, shafts and other moving parts of equipment. The wire is demanded in the production of household appliances, electrodes for welding. Wire, round and rod 08KH22N6T used in the production of commercials for slot furnaces (for fast firing ceramic tiles, flat household ceramics and other ceramic products), in conveyor oven grids, in the production of various mechanisms and parts, including pipeline systems, whose work is carried out under load.
Buy at best price
The company «AVEK global» specializiruetsya on the sale of metal rolling of heat-resistant and heat-resistant alloys. The proposed terms and wire grade 08KH22N6T from warehouses in Ukraine and in Russia with delivery to any region of the CIS and abroad. All products are certified and available. Deliveries are made promptly. When wholesale purchases are offered preferential discounts.