20KH25N20S2 - 1.4841 - aisi 314 pipe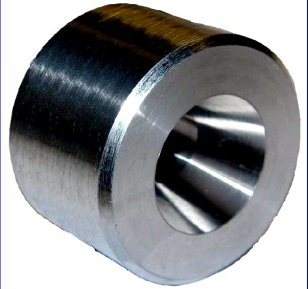 Production
Heat-resistant steel brands 20KH25N20S2 is smelted in an induction furnace. Refers to a complex alloyed alloys based on iron. In its composition contains chromium 24 to 27% Nickel — 18−21%, silicon — 2−3%, manganese up to 1.5%, copper, molybdenum — 0.3% vanadium, tungsten, carbon, titanium — 0.2%, of the additive sulfur and phosphorus — thousandths of a percent. The doping increases the technological properties of steel: the heat resistance and the heat resistance, the ability to confront aggressive media. Forging semi produced early in the process at a temperature of 1170 °C and in the end — about 850 °C. the Hardening rods carried in air at a temperature of 1050−1150°C.
The percentage composition of the alloy GOST 5632−72
Mark
C
Si
Mo
V
Cr
Cu
Mn
Ni
Ti
W
S
P
Fe
20KH25N20S2
≤0,2
2−3
≤0.3 mm
≤0,2
24−27
≤0.3 mm
≤1,5
18−21
≤0,2
≤0,2
0,02
0,035
the rest
Dignity
Pipe 20KH25N20S2 stable at high temperatures in air and hot gas environments to corrosion. Such a pipe, alloy chrome, Nickel, silicon, molybdenum, vanadium, tungsten, capable of withstanding contact with the aggressive medium because in the process of heating these substances on the surface to form a protective film — oxides of chromium, Nickel and Steel. 20KH25N20S2 enough plastic that allows it to produce the most intricate designs. Metal has an attractive appearance, do not require painting.
Application
Production of conveyor furnace nets, rollers slot furnaces for fast firing ceramic tiles, household ceramics and other ceramic products. Pipe 20KH25N20S2 use in parts of the burner. It is used in the manufacture of covers electrical thermometers because it has a feature not contaminate the electrodes thermocouples and provides reliable protection of the thermocouple when working in hazardous conditions and corrosive environments. Such a pipe can withstand temperatures of 1000 °C for a long time, has a high creep resistance at high temperatures under load. It is used for internal combustion engines, furnaces for steam and gas turbines, jet engines, nuclear power plants as a structural material.
Buy at best price
The company «AVEK global» specializiruetsya on the sale of complex alloyed stainless alloys. We offer products 20KH25N20S2 in a wide range from warehouses in Ukraine and in Russia with delivery to any region of the CIS and abroad. All products are certified. The certificate is marked manufacturer, brand alloy, the melting number, chemical composition, mechanical properties of products and the results of additional tests, Deliveries are made promptly. When wholesale purchases are offered preferential discounts.