Ropes and cables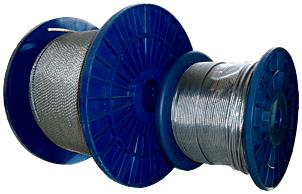 The structural elements of crane and freight mechanisms, as well as various equipment in the machine building, transport and mining industry are the so-called steel ropes. From the field of application and operational use, the cables are of several types: traction, bearing, binding, reinforcing and lifting. According to GOST, steel ropes are also subdivided into cargo, the purpose of which is to lift different cargoes, and cargo ones — with their help it is possible to transport human resources.
For the production of steel cables use carbon steel as coated (polymer, zinced), and without it. Galvanized cables and ropes have increased corrosion resistance and can be used in aggressive conditions of varying degrees of rigidity. Manufacture of this metal products is carried out normal and increased accuracy. A stainless steel rope can have a different design, on which the specific conditions of their operation depend, and of course this is displayed at their cost.
Although the higher price for steel rope and rope is more about the quality of the wire used. Since stainless steel wire of different quality and with different mechanical characteristics is used for the production of stainless ropes, this also affects the quality of the final product. That is why distinguish the brands of ropes and steel cables of general purpose with normal, high and high quality.
The number of wires in the ropes depends on their flexibility — the more wire is used, the more flexibility the rope possesses. For example, for the production of cables with increased flexibility, 144 wires are wound around the core. As for such an important structural detail of the cable, as a core, both organic materials (OC) and metals (MS) are used in its manufacture. Now you can easily buy any of the rope types quite at an affordable price .
The elements of the steel rope may have a different direction of the twist — left or right, and the combination of the directions of the rope of the elements with the product itself — one-sided and cross. Steel ropes differ from each other also with their strength characteristics or temporary resistance to tearing, degree of torsion. Twirers have the same direction of the spinning of strands along the layers of the cable, and the uncoiling are the opposite. Also produce ropes unwinding, indiscreet and straightened, and various types of rope. Before you buy a steel cable or rope you need to familiarize yourself with the technical passport of the mechanism to which it is intended, or use the advice of professionals.