Aluminum round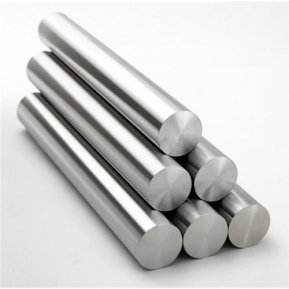 general characteristics
The circle made of aluminum has a circular cross-section and is made of both pure aluminum and its alloys. Consumer properties depend on the ratio of chemical elements in the composition, heat treatment methods, etc. factors. There are several brands that are marked depending on the physical and technical properties and features of production.
Mark AMZ has remarkable anticorrosion properties, electrical conductivity and sufficient ductility. Good weld with other metals. It is produced by cold rolling and pressing.
The AD series are more plastic than the previous ones, they have increased strength because they are additionally subjected to heat treatment. Used for hot rolling.
The AK-series grades tolerate high temperatures well, but are poorly protected from corrosion, and have a difficult weldability. All brands, despite their differences, are made on the basis of GOST 24231−80
Manufacturing
The first method: hot rolling and pressing. The second method is based on cold metal working. Depending on the customer's requirements, circles make different diameters, ovality, curvature and accuracy. Depending on the requirements, the circles are made softer, hardened or annealed. Artificial aging and hardening are used. The production technology is regulated by GOST 26877−91. A mandatory condition after production is a trial of technological qualities.
Quality
The surface of the circles should be smooth silvery white, clean. In accordance with GOST 21488−97 the surface should not have microcracks, potholes, metal stratifications, various foreign inclusions and corrosion traces. The surface of aluminum should be smooth, the ends should be evenly cut and not have any burrs.
Application
Aluminum circle is necessary for creating lightweight structures. Due to its unique properties, such as lightness, ductility, specific strength, ability to withstand corrosion and low temperatures, it is used in almost all areas: electrical engineering, transport engineering, food processing, shipbuilding, aerospace, etc. It is also used in the manufacture of various Welded structures.
Diameter, mm
price
Circle Aluminum AK4−1 (AK4−1T1)
2О-25О
By agreement
Circle Aluminum AK6
2О-25О
By agreement
The circle is aluminum AMg (AMg3, AMg2, AMg3M, AMg6, AMg5)
8−45 O
By agreement
Circle Aluminum AMZ
8−3OO
By agreement
Aluminum rod AD1
2О-15О
By agreement
Aluminum bar AD31 (AD31T)
2О-15О
By agreement
Buy at a bargain price
The company Avek Global LLC specializes in the sale of non-ferrous metal products. We offer products from warehouses in Ukraine and Russia with delivery to any region of the CIS and abroad. All products are certified and in stock. A large assortment will not leave you without a choice. We guarantee timely delivery. When bulk orders are given discounts.