Wire, round, rod Braj 9-4 - CuAl10Fe1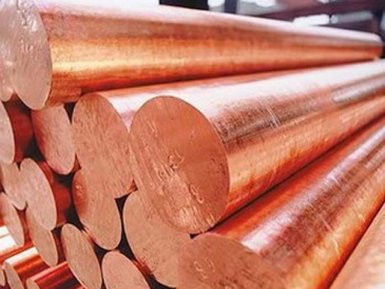 Supplier — AvekGlob Company — offers at a reasonable price from the manufacturer a wire, a circle and a rod of brass bronze АЖ9−4 (CuAl10Fe1) in a large assortment of diameters and length. The supplier guarantees the timely delivery of products to any address specified by the consumer.
Technical specifications
Bronze Br AŽ9−4 (the closest foreign analogue is the alloy CuAl10Fe1) is a tinless plastically deformable bronze, in which there is an increased percentage of aluminum. Bronze is distinguished by a sufficiently high strength and corrosion resistance. The development of corrosion processes that occur in liquid and gaseous media is hampered by a strong oxide film that forms on the surface of the products during their operation. Bronze grade Br AH9−4 (CuAl10Fe1) is characterized by a low coefficient of sliding friction in conditions of excessive lubrication of the contacting parts.
Urgency of application
Wire, circle and rod of bronze БР АЖ9−4 (CuAl10Fe1) are used in the production of household air conditioners and refrigerators, other household appliances, as well as in water supply and sewage systems (shut-off valves, valves, radiators). Other applications of this alloy are associated with the production of gears and gears of gears, as well as other friction units in machine and aircraft construction.
Chemical composition
In accordance with the technical standards GOST 18175−78 bronze Br AZH9−4 contains the following elements (data are given in percentages, copper is the rest):
| | | | | | | | | |
| --- | --- | --- | --- | --- | --- | --- | --- | --- |
| Fe | Si | Mn | P | Al | Pb | Zn | Sn | Impurities |
| 2… 4 | Up to 0.1 | Up to 0.5 | Up to 0.01 | 8… 10 | Up to 0.01 | Up to 1 | Up to 0.1 | Total no more than 1.7 |
Physical and mechanical properties
Density, kg / m 3 — 7520;
Melting point, 0 С — 1038;
Specific heat at room temperature, J / kggrad — 460;
Coefficient of thermal conductivity at room temperature, W / megade — 58,5;
Coefficient of thermal expansion at room temperature, μm / deg — 16,1;
The limit of time resistance, MPa — 450… 650;
Yield strength, MPa — 360… 500;
Relative elongation at tension,% — 6… 30 (lower values correspond to the alloy after softening heat treatment).
Hardness according to Brinell, HB, not lower than 121 (for alloy, past annealing).
Assortment and application features
In accordance with the technical requirements of GOST 1628−78, a bronze rod and a circle of bronze Br AH9−4 are produced in the range of diameters from 5 to 40 mm, wire — from 0.08 to 12 mm.
This bronze is well suited forging: the beginning of deformation — at a temperature of 900 0 C, the end — at a temperature of not less than 800 0 C. Weldability — satisfactory, limited (only under a layer of flux).
Supplier — AvekGlob Company — offers to buy bar, wire or a circle made of iron-aluminum bronze of Br AJ9−4 (CuAl10Fe1) in a wide range of cross-sections and length. Products can be bought at a price formed on the basis of European and world standards of production. Implementation is possible in bulk and retail, for regular customers, a flexible system of discounts operates.