MNZHKT wire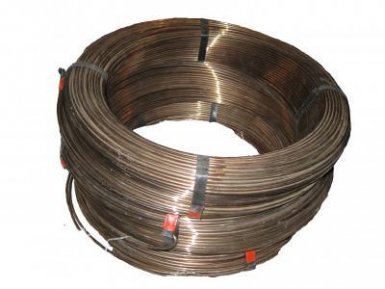 General characteristics
Wire MNZHKT 5−1-02−02 is based on the copper-based and is used for welding between various Nickel-copper alloys. Properties of the wire, usually determined by a good combination between the main and alloying components, which optimize the microstructure of the alloy. Nickel is included in the composition of the wire provides resistance to corrosion and its malleability, the iron provides the strength, and the combination of silicon, titanium and manganese greatly increases the strength of the weld, and also protects it from appearing oxidations of copper. An integral part of fundamental elements that are part of the wire is indicated in its title, where each letter indicates a specific item. MNZHKT wire available in different diameters such as 1, 2, Z, 4 and 5 mm, which is specified in GOST 16130−90 and is made by a special technique that significantly reduces the time of production.
Wire MNZHKT 5−1-02−02
The main components
Mn%
Fe%
Si%
Ti
Si
Ni + With
Basis
5%
0,3%
1%
0.15% of
0,1%
Application
Wire MNZHKT usually applied to works manual and semi-automatic welding in shielding gases, different metals such as bronze, brass, copper, steel, as well as a huge variety of different copper-Nickel alloys, and various weld deposits on steel. Mainly used semi-automatic, single pass welding, and argon arc type of welding. This wire has a very broad scope and is simply irreplaceable in shipbuilding, and in various installation works. MNGMT copper wire supplied in coils, spools and spools of solid, semi-solid and soft state.
Buy at best price
From the warehouse of our company you can buy welding wire in a wide range at the most affordable prices. A huge choice can satisfy any customer. Order and buy the steel wire can be on our Internet website, and through the nearest office. Wire quality is guaranteed the full observance of technological norms of production. Note that the deadlines of all orders are very short. The price of wire depends on the volume of orders, and any additional terms of delivery. In the wholesale supply of discount system.