Solders aluminum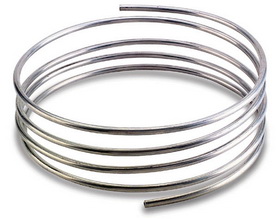 Relevance
Aluminum alloys are very often used when the need arises, the connection parts of aluminum alloy by soldering. Modern aluminum alloys have a balanced composition and high quality. They are used when it is necessary to repair on pipes made of aluminum alloy, for example, to eliminate damage or cracks.
Aluminium with many elements to make a double, triple, and even quadruple eutectic with the level of the melting temperature in the range from 600 to 29.8°C and even below zero in the range of -39,8°C (Al+Hg).
Physical quality Al
Atomic (molar) mass, g/mol
26,98
Atomic number
13
Density [g/cm3]
2,7
The melting temperature t°C
660,3°C
The degree of oxidation
3
The thermal conductivity K [W/(m·K)]
237
Molar volume cm3/mol
10
It is worth noting that many triple and quadruple eutectic alloy containing aluminum, low-plasticity and badly deformed. Part of the ternary eutectics on the basis of aluminium was investigated as solders. As a result, many of them were not suitable for the process of soldering aluminium or its alloys not only because of its low ductility, but also because of the weak level of resistance to corrosion.
Solder B62
Temperature
Al%
Zn%
Cu%
Mn%+Si%
Melting
Soldering
490−500°C
505−510°C
50−52,5%
24−26%
20%
1,5%+3,5%
The most widely used as solders got double the eutectic A1−11,77% Si (with the melting point 577°C) and alloys. As solders quite often used and doauthenticate alloys having a solidus temperature of 577 °C. these brazing alloys have excellent casting properties and the best compared to other aluminum alloys, high corrosion resistance, lower chemical erosion activity.
Solder The Germanium-1
Temperature
Al%
Zn%
Ge%
Si%
Melting
Soldering
460−480°C
530−550°C
64,5%
---
31%
4,5%
A significant drawback of aluminum alloys with germanium is their low plasticity and a perfect inability to rolling.
Buy at best price
The company «AVEK global» offers the best prices on aluminum solder. Offer to buy with delivery to any region of the CIS.