Aluminum bus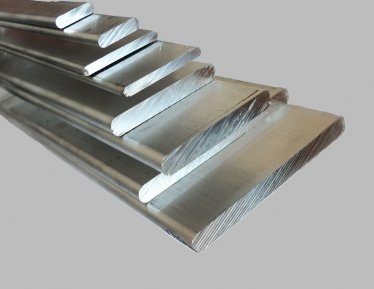 General characteristics
Aluminum tire is a solid flat profile with a thickness of 3 mm. Properties of the tyre depend on the state of the material, its chemical composition and production method. Aluminium busbars have corrosion resistance, ductility, high conductivity, example is the brand tires AD0. Compared to other alloys, the best properties are provided by a low content of impurities. To increase strength, use heat treatment or cold deformation. Long products are perfectly processed by cutting, and welded in various ways.
Classification
1. The classification of tires according to the condition of the material:
— Naturally aged tire.
— Hardened bus (АД31Т).
— Hot-pressed bus (without heat treatment).
After heat treatment of the test. It is important that after quenching the microstructure of the products did not have signs of burnout. According to the method of production distinguish replacerange channels of aluminum. The surface has a standard quality finishes, the normal strength and precision manufacturing.
Scope
Aluminium busbars are widely used in construction, mechanical engineering. They are used to create decorative or structural parts used in the production of interior design elements of planes, cars, the interior of buildings. Due to the fact that aluminum tires have high electrical and thermal conductivity, namagnichennosti and plasticity, and they are used in power switchgears, busducts hard and tire assemblies. It should also be noted not the toxicity of the material and its ability duration of work in all environmental conditions, sometimes close to extreme.
Size in mm
The cost of a stamp
Aluminum bus AD0

3*40

4*40

5*50

6*80

8*60

10*80

By appointment
Aluminum bus AD31, АД31Т

3*25

4*40

5*60

6*60

8*80

10*120

By appointment
Buy at best price
The company «AVEK global» offers rolled aluminum on the most favorable terms. We have a large selection of aluminum tires, as in measuring intervals and of random length aluminum alloy AD31, AD0, etc. (GOST 22233−2001, chemical composition — GOST 4784−97). According to GOST 24231−80 controlled chemical composition. Our company can guarantee strict compliance with all standards and technologies in the production process. Storage, packing, transportation and anti-corrosion protection is accordingly to GOST 9.510−93. We ensure timely production and a flexible system of discounts for wholesale orders of product.