Spiral nichrome Х20Н80 - 2.4869 - Ni80Cr20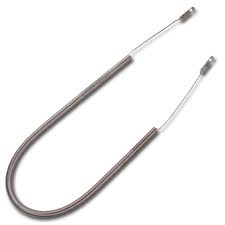 Nichrome was invented at the beginning of the twentieth century by A. Marsh and, thanks to his outstanding qualities, became an alternative to the production of electrical engineering. Such popularity, undoubtedly, influenced the cost of nichrome. Until recently, the spiral of this material was worth a lot of money. Our company offers you a quality nichrome spiral, the price of which will pleasantly surprise you.
Key Features
The nichrome spiral is the «heart» of the heating devices. Advantages and scope of its application are determined by the qualities of chromium and nickel. The most popular alloys of this category are X20N80 and X15N60. In their composition, 60% — 78% Ni, and up to 23% Cr. In addition to these two main components, the alloy is doped with titanium, aluminum, manganese, iron, which enhance such properties as ductility, corrosion resistance, heat resistance, resistance in oxidizing atmosphere.
Application
Heat resistance, a significant electrical resistivity of the nichrome helix makes it possible to use it in high-temperature electric drying and calcining furnaces. It is used for resistors, rheostats, which work with strong heating. Compared with the previously used iron for these purposes, nichrome is safer, does not spark, does not rust, is more refractory. Its operating temperature exceeds 1100 ° C. Until now, engineers are studying the unique properties of this material, expanding the scope of its application.
Buy at a bargain price
In the warehouse, Avek Global Ltd. is the widest range of heat-resistant alloys. We supply high quality goods at the best possible price. Our managers are always glad to help you with the decision of the arisen questions at a choice of necessary materials, promptly will give the necessary information on the goods, the prices and delivery terms. The cost of the products from the nichrome depends on the volume of delivery and the parameters of the products.
The implementation of orders takes minimal time. Wholesale buyers receive preferential discounts.