Conveyor mesh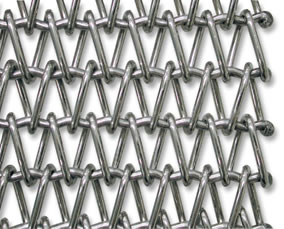 Relevance
The use of classic metal nets is often limited to a number of conditions. Where most of them do not cope, transporter nets are used. They are ideal for work in aggressive environments and can provide a reliable solution where high temperature operation is performed, for example, for transporting parts or finished products to the furnace.
Application
Everyone knows that the miser pays twice. To reinforce the base layer of external thermal insulation systems, a special expensive alkali-resistant metal coating is needed, since the pH level in the adhesive mineral compositions is 12.5. Mesh, unstable to alkali, after serving for several years, dissolves completely, which will cause the appearance of cracks on the facade. Based on our own experience with the use of such grids, we give several general quality requirements:
1. Stability of the mesh in the normal state to tensile forces.
2. To reinforce the base layer, the surface density must be 160 g / m2. And 340 g / m.kv.vlya for the surface armor anti-vandal mesh.
3. The tensile strength is 2000 N / cm, not less, in the normal state.
4. After compulsory alkaline tests, sufficient strength should be preserved:
The strength should be 850 N / cm after 28 days in a 50% solution of NaOH (sodium hydroxide). After a six-hour stay in alkaline solution of Ca (OH) 2 (calcium hydroxide), KOH (potassium hydroxide), at 80 ° C, pH 12.5, the strength should be 750N / cm. It does not matter what the conveyor grid will be used for. It is more important, what is its composition, how much it is durable.
Dimensions
Parameters of any kinds of woven mesh can vary significantly. For more detailed information, please contact the suppliers or manufacturers. All sizes can be negotiated according to the individual requirements of the client for the speedy execution of the order.
Using
Bakery, confectionery industry. When heat treatment, moving parts in tunnel kilns. The conveyor mesh fits where other types do not fit. It is made of a special refractory material, suitable for operation at high temperatures.
Buy at a bargain price
LLC «Avek Global» offers the most favorable terms of delivery. At the company's warehouse there is a wide range of metal mesh. A personal manager will help you make the right choice, answer all questions and find a mutually beneficial solution. Becoming our customer, you will get an opportunity to save money and precious time, as our products can be purchased at a very favorable price. By carrying out bulk orders, you can count on the company's flexible discount system. The lead time for orders is minimal. All goods are certified. Quality is guaranteed by strict observance of all technological norms of production.