Sell ​​phosphors warehouse in Kiev, Dnepropetrovsk and other cities, Tel: ++38 (056) 370-46-04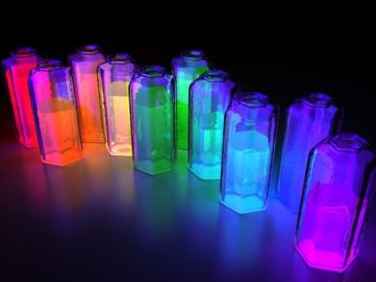 Characterization
Phosphors — are substances capable of converting absorbed energy into radiation. Svetonakopitelny contain a pigment, is non-toxic and safe analogue of phosphorus, which glows in the dark. Effect characteristic fluorescence of rare earth metals. By its nature, the phosphors are divided into inorganic and organic — crystal phosphors. The glow of the first due to the presence of a minor amount of free cations. For example, ions of copper activated zinc sulfide emission.
Application
Demand crystal phosphors in fluorescent lamps, producing X-ray screens, cathode-ray tubes. They also serve as indicators of radiation. Organic phosphors (lyumogeny) are used for the production of fluorescent dyes, luminescent materials and for sensitive fluorescence analysis in chemistry, biology, medicine and forensic science.
Electroluminophors converting the electric potential at the visible light. They are used for photographic printing, lighting, automotive lighting panels, measuring instruments, for the camouflage of night lighting, backlight LCD, the instrument panel airplanes, television, radio, telephone dialers, a graphical display devices and character information is vital for the creation of large flat TV screens.
Types of phosphors
Fotolyuminofory are a type having the property of conservation of energy accumulated during the light emission and its own persistence of varying lengths. There are man-made and natural fotolyuminofory. There radiolyuminofory that are illuminated by radioactive radiation. Phosphors PCT and FC containing radionuclides tritium, have a long life and give a bright light. Apply katodolyuminofory for color and black-and-white projection or display picture tubes with Ce 3 + cations as activators of radiation. Rentgenolyuminofory contain heavy metals: Cd, Ba, W. They are used in X-ray and fluoroscopy, radiography. They glow under the influence of hard gamma-ray radiation
Buy at a bargain price
Great choice of phosphors in stock LLC «Avek Global» can satisfy any consumer. The quality is ensured full compliance with all technological norms of production. We offer products from warehouses in Russia, Ukraine, delivery to any address. Our experts will pack, complement, mark your purchase, but also track the delivery. All products are certified cash. Price depends on the size of the order and the additional conditions of supply. Order lead time is minimal. For wholesale orders the company provides significant discounts.