Sleeve mesh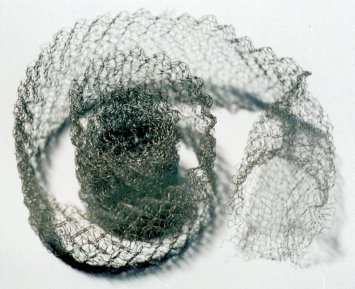 Relevance
Sleeve mesh is the second name — tubular. Usually used for packaging, reinforcement, fencing, protection against aggressive media.
Production
The welded mesh fabric is made of corrugated wire PB-1 or reinforcement, which is mutually perpendicular and connected by a method of contact spot welding, according to GOST 8478−81. The main purpose is reinforcement of reinforced concrete structures, asphalt, road surface. When carrying out any construction work, it is necessary to accurately calculate the mass of all reinforced structures. This will help significantly in assessing the cost of construction work.
Options
Dimensions can vary significantly, depending on the requirements of the customer and the manufacturer's proposals. Accordingly, the weight of the rolls can be substantially different. The size of the cells, the parameters of the maps are normalized by GOST. But there is an opportunity to order material of non-standard cell sizes or with a special protective coating.
To find out the weight, it is required to sum the length of all the fibers of the mesh reinforcement, and multiply it by the weight of the running meter, which you can learn by checking with the tables GOST 5781−82, by the profile number (nominal diameter). The thinner the reinforcement, the more meters in a ton. For example, the mass of 1 meter of reinforcement with a diameter of 14 mm is 1.21 kg. And then everything is extremely simple, you should only follow the directions given above. Even easier — ask for help from specialists. The selection of products is necessary based on the scope, working conditions and performance characteristics. Having entrusted this work to a qualified specialist, it is possible to obtain a competent calculation of the quantity, weight and class of the reinforcement. This will save time, labor and money.
Using
Sleeve mesh is used on mechanical devices to provide insulation and protect the unit from various aggressive environments. Basically, it is in demand for refining, gas production, chemistry, petrochemistry, and other related industries.
Benefits
High level of protection for various jobs. Wherever polymeric compounds can not cope, the metal-welded mesh that has been tested for years is widely used.
Buy at a bargain price
LLC «Avek Global» offers the most favorable terms of delivery. At the company's warehouse there is a wide range of metal mesh. A personal manager will help you make the right choice, answer all questions and find a mutually beneficial solution. Becoming our customer, you will get an opportunity to save money and precious time, as our products can be purchased at a very favorable price. By carrying out bulk orders, you can count on the company's flexible discount system. The lead time for orders is minimal. All goods are certified. Quality is guaranteed by strict observance of all technological norms of production.