Molybdenum sheet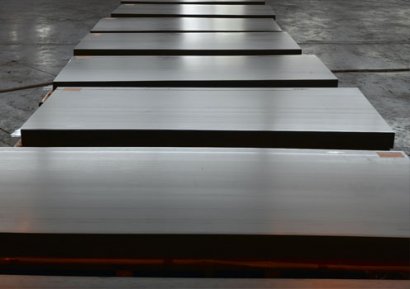 Dignity
Molybdenum sheets are characterized by mechanical strength, refractoriness, corrosion resistance. They have a high elastic modulus, low coefficient of thermal expansion, making used in most complex technological production conditions. Compared with tungsten and molybdenum sheets easier practically doubled, therefore have a large specific strength (at t° to 1370°C).
Physical properties of molybdenum
The temperature at which the obtained data the features of t°C
20°C
The linear thermal expansion coefficient α [1/°C]
Of 4.9x10-6
Density [g/cm3]
10,2
The melting temperature t°C
2620°C
Specific heat at 20 °C [kJ/(kg·deg)]
0,256
The thermal conductivity K [W/(m·K)]
142
Electrical resistivity R, Mhmm2/m
0,054
The influence of impurities
Pure molybdenum does not react with cold alkalis or solutions of inorganic acids. Impurities of carbon, oxygen, silicon, aluminum, nitrogen, iron, sulphur, calcium, phosphorus significantly change its properties. Most harmful of all impurities is considered to be oxygen. In a volume 0,0008−0,004%, it increases the fragility, impeding plastic deformation, especially in the simultaneous presence of carbon with nitrogen. With increasing percentage of oxygen than 0.015%, the processing pressure because of the fragility becomes impossible. Sheet of titanium-molybdenum alloy can be operated at t° up to 1500 °C; molybdenum, doped silicon — at temperatures above 2000 °C. a Sheet having a silica-alkali additive, have high tensile strength and Flexural strength in the annealed condition, as well as the recrystallization temperature. Alloying with cobalt increases the ductility in the annealed condition.
Disadvantages
Almost the only disadvantage is the high cost of molybdenum. He is a metal belonging to rare earth elements, in its pure form it is quite difficult to identify, it is refractory and hard to work.
Manufacturer
Sheets of alloy M-MP release hot — and cold-rolled. The first thickness is 1 to 30 mm cold Rolled is 0.1 — 0.9 mm according to GOST 17431−72.
Chemical composition of molybdenum powder for the manufacture of sheets.
The component name
Ca
Ni
Al
Si
Mg
Na
Fe
K
Moisture+ O
Mo
W
Content, in percent
0,007
0.005 each
0,003
0,015
0,014
0,05
0,3
OST.
0,4
Application
For heat-resistant fencing, heat-resistant containers, making boats etc. Due to the identical coefficient of thermal expansion of the glass and molybdenum thin tape marks MCIT, MCH is for the production inputs of electric vacuum devices. It is also used in heating elements of electric furnaces, which operate in a hydrogen atmosphere, at a temperature not exceeding 1600 °C. Molybdenum sheet is used in rentgenotechnika and electronics for the manufacture of parts of vacuum devices.
Buy at best price
In stock LLC «AVEK global» — the widest range of products from rare and refractory metals. We offer a molybdenum sheet of any parameters at the best prices. Our specialists are ready to answer any questions and to help in the selection of necessary materials, upon request, will provide all the necessary information about the product, cost and delivery time. Rates depend on scope of delivery and additional conditions. For wholesale orders discounts. Buying products of the company «AVEK global», You will find a worthy partner.