Terbium brand, chemical structure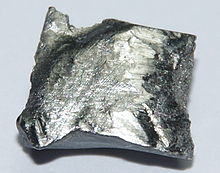 General characteristics
Terbium — a silvery-white color, refers to the group of lanthanides, the element of the 3rd group of the periodic system of the chemical. items where indicated Tb. The atomic weight of 158,925. Opened in 1843 by Swedish scientist Mazanderan that decomposition was able for the first time to the oxides of terbium, erbium, yttrium. And only 60 years later, J. Urbain, a French chemist, was able to distinguish pure terbium. Its content in the lithosphere is about 4.3 g/t. industrially, it is isolated from a mixture of rare earth elements and after recovery metallothermic method of getting a metal terbium.
Chemical and physical properties
The melting point of 1356 °C, the weight of about 8.3 g/cm3, t° boiling point 3227 °C. in air At normal conditions the metal is fairly stable, but in boiling water it begins to form a hydroxide Tb (OH)3. It dissolves in mineral acids with formation of salts. The terbium oxide is obtained by calcination at 800°-1000°C in air, salts of terbium. Dioxide TbO2 is formed by thermal decomposition of Tb (OH)3. More stable is the trivalent terbium ion and a tetravalent ion exists only in the composition of the hetero-prisoedinenii.
Physical quality Tb
Atomic (molar) mass, g/mol
159,925
Atomic number
65
Density [g/cm3]
8,229
The melting temperature t°C
1356°C
The degree of oxidation
4, 3
The thermal conductivity K [W/(m·K)]
11.1 V
Molar volume cm3/mol
19,2
Use
The production of phosphors, lasers, magnetic and thermoelectric materials, semiconductor computer components, magnetostrictive alloys. Alloy Fe-Tb today is the best magnetostrictive material is used for production of powerful servomotors (for example, telescopes), for ultrasonic emitters with the absolute power of a sound wave. Besides introducing the newest compounds of terbium, for example, single crystal titanate Tb, which has a huge magnetostriction. GOST 23862.15−79 regulates the determination of impurities of oxides of terbium.
Buy at best price
LLC «AVEK global» is a company which sells non-ferrous, rare metals on the most favorable terms. In stock provided a range of products from terbium and its alloys. For larger orders, additional conditions of supply depends on the price. At wholesale enjoy significant discounts. Our managers are always ready to provide expert assistance. A large range will not leave you without a choice. All products are certified, shipped promptly.