Water copper pipe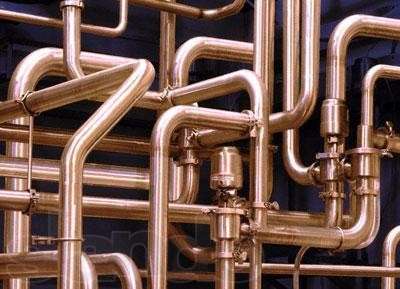 Relevance
The best material for water pipes always was considered to be copper. Most popular grades of copper doped with phosphorus, designated by the international standard «si-DНР». It is a soft, plastic alloys, very well withstand dynamic loads, easy to bend, no corrosion.
Advantages of copper pipes
The melting point of copper is over 1000 degrees, and the limit pressure that a copper pipe can withstand about 200 atmospheres. The most basic water pipes — the material should have very low temperature coefficients of linear expansion. With cooling and heating pipes made of such material, almost no change of the linear size, in contrast to steel pipes.
Physical quality Cu
Atomic (molar) mass, g/mol
63,548
Atomic number
29
Density [g/cm3]
8,92
The melting temperature t°C
1085°C
Modulus of elasticity kgf/mm2
900
The thermal conductivity K [W/(m·K)]
401
Molar volume cm3/mol
7,1
Low coefficients of linear expansion of copper alloys, pipe, important for water because of the constant change of the size of the pipes and the effects of temperature difference are the main causes of failure of the water system.
The use of copper pipes
In Europe use of copper pipe in the system of water pipes for centuries. Service life of copper pipes date back to centuries. Material of copper is not harmful to human organisms, and in some cases the copper ion dissolved in water is even useful (for some diseases). Materials made of copper have bacteriostatic and bactericidal effect, i.e., stops the growth and kills most of the pathogenic bacteria.
Purchase. Prices on copper pipe
To buy and order the copper pipes or fittings of any diameter is possible through our office or an Interactive website LLC «AVEK global». In company warehouses always available the big range of rolled copper at the best price. The choice will always satisfy You as a customer. Prices depend on the volume of the order and additional conditions of delivery. For «wholesalers» — a flexible system of discounts. The delivery time is minimal. High quality guarantee strict observance of technological norms of production.