Pipe tungsten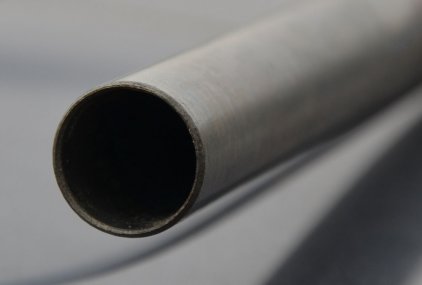 Advantages
The production and use of tubes of refractory metals such as tungsten, niobium, molybdenum, chromium, tantalum depends directly on high-end technologies, use of alternative raw materials that enhance the competitiveness and viability of the industry. Of all materials, tungsten is the most refractory of which becomes the basis of the most heat-resistant products. Tubes made of tungsten are resistant to aggressive environments, including in concentrated solutions of hydrochloric, nitric, sulphuric acids and alkalies. These pipes have excellent mechanical properties: hardness, wear resistance under strong heating and the lowest thermal expansion coefficient among other metals. Tungsten has a very high module of compression and extension, exceptional resistance to thermal creep, good thermal conductivity. The durability of tungsten pipe is much more pipes of other metals. This is primarily due to the strength of the material, its resistance to stress and chemical inertness.
Physical quality
The temperature at which the obtained data the features of t°C
20°C
The linear thermal expansion coefficient α [1/Deg]
43x10-6
The density of the alloy [g/cm3]
19,3
Tensile strength tensile kg/mm2
35
Specific heat at 20 °C [kJ/(kg·deg)]
0,134
The thermal conductivity K [W/(m·K)]
300,173
Electrical resistivity R, Mhmm2/m
0,054
Disadvantages
Tungsten is a very rare element in the earth's lithosphere. In normal conditions, it is rigid and not very ductile. The difficulty of obtaining it in pure form and rather complex processing because of the unique properties enhances the cost of the final product. Tungsten tube, also, is very heavy.
Manufacturer
Tungsten tube is made by high precision special equipment from certified blanks. In their manufacture we use modern technology for chemical treatment and finishing of ready-made pipes, vacuum thermal processing. The quality control of manufacturing is carried out at all stages of production. Basic assortment of pipes with a diameter of 0,15 — 35 mm, wall thickness of 0.05 — 10 mm.
Application
The rapid development of robotics, instrumentation, chemical, petrochemical, automotive, electronics increases the demand on the refractory tube. Thus, the need for molybdenum, tungsten tubes, only Russian enterprises is annually over one ton. Without refractory metals, a list of which is headed by the tungsten, it is practically impossible to do in making heat-resistant parts and components that are designed for operation in aggressive liquid and gaseous media. The steady growth of demand in the tungsten pipes can be traced in the aerospace industry, nuclear energy, mechanical engineering, electrical engineering, military-industrial complex, medicine.
Buy at best price
A large range of high quality refractory tubes of different configurations in stock LLC «AVEK global» can satisfy any consumer. We offer a high quality product at the best prices. Our specialists are ready to answer any questions and to help in the selection of necessary materials, upon request, will provide all the necessary information about the product, cost and delivery time. Rates depend on scope of delivery and additional conditions. For wholesale orders discounts. Buying products of the company «AVEK global», You will find a worthy partner.