Tungsten crucible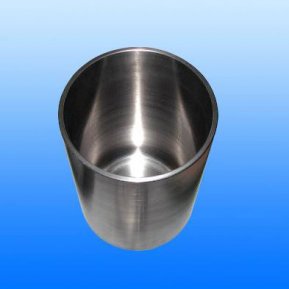 Dignity
Tungsten crucible has a very high temperature strength and heat resistance, it has high elasticity and strength, high temperature creep resistance, good thermal conductivity and lowest thermal expansion coefficient in comparison with other metals. Tungsten crucible has resistance to many aggressive factors. The durability and reliability of this type of hire will be used in the production of the most critical parts.
Physical quality
The temperature at which the obtained data the features of t°C
20°C
The linear thermal expansion coefficient α [1/Deg]
43x10-6
The density of the alloy [g/cm3]
19,3
Tensile strength tensile kg/mm2
35
Specific heat at 20 °C [kJ/(kg·deg)]
0,134
The thermal conductivity K [W/(m·K)]
300,173
Electrical resistivity R, Mhmm2/m
0,054
Disadvantages
The drawbacks include the difficulty of obtaining tungsten in its pure form, a large proportion (like gold) and brittle at low temperature. Tungsten crucible is not enough plastic and hard at ordinary temperatures. Tungsten crucible because of its exceptional properties to process (rolling, drawing and forging) only with considerable heat.
Manufacturer
Tungsten crucibles are made of various shapes and sizes sintered, welded and seamless construction, raw or processed mechanically. Tolerances and parameters correspond to the customer's drawings. The advantages of tungsten and its production process ensure high durability, reliability and thermal stability of the crucibles. The price of a crucible depends on the complexity of the configuration, the additional requirements of the customer and sizes. Quality products are standardized specifications. Specific gravity: not less than 18.3 g/cm3
Use
Tungsten crucibles are used in metallurgy casting, smelting, distillation, refining and recovery in an inert atmosphere and a vacuum, dysprosium, lutetium, yttrium, scandium and other rare earth metals and their alloys with a melting point of over 3000 °C.
They are also used for sapphire growing, leucosapphire and silicon single crystals, rubies, etc., melting in glass melting furnaces, quartz, furnaces with operating temperatures above 2000 °C coating, vacuum evaporation of metal films. They are used in the production of high-quality rubies, sapphires of great importance to the manufacturing precision and material purity, high density tungsten crucible with no internal defects and cracks.
Buy at best price
Large assortment of tungsten crucibles in stock LLC «AVEK global» can satisfy any consumer. The quality of the finished product is ensured absolute compliance with all technological norms of production. The order execution time is the shortest. If you have any questions, you will receive detailed advice from experienced managers. In the implementation of wholesale orders the company provides flexible system of discounts.